lemon

lem·on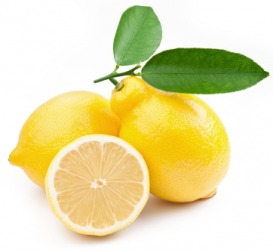 Lemon yellow lemons.
noun
The definition of a lemon is a yellow color, a small and yellow egg-shaped citrus fruit, or is slang for a poorly-made article that is defective.

An example of lemon as a color is a yellow flower.
An example of a lemon is the source of the citrus juice in a gin fizz cocktail.
An example of lemon is a car that never runs correctly even after being fixed repeatedly.
---
lemon
a small, egg-shaped, edible citrus fruit with a yellow rind and a juicy, sour pulp, rich in ascorbic acid
the small, spiny, semitropical evergreen citrus tree (Citrus limon) bearing this fruit
any of various shades of yellow; specif.,

pale yellow
bright yellow
greenish yellow

Informal

something, esp. a manufactured article, that is defective or imperfect
an inadequate person
Origin of lemon
Middle English
lymon
from Middle French
limon
from Arabic
laim?n
from Persian
l?m?n
having the color of a lemon; pale to bright yellow
made with or from lemons
having a flavor more or less like that of lemons
---
lemon
noun
a. A spiny evergreen tree (Citrus limon) native to Asia, widely cultivated for its oval yellow fruit.

b. The fruit of this tree, having an aromatic rind and juicy, acid pulp.

Lemon yellow.
Informal One that is unsatisfactory or defective: Their new car turned out to be a lemon.
adjective
Lemon-yellow.

a. Made from lemons.

b. Tasting or smelling like lemons.
Origin of lemon
Middle English
limon
from
Old French
from
Old Italian
limone
from
Arabic
laymūn
ultimately from alteration
(
probably influenced by an Andalusian Romance augmentative suffix akin to
Spanish
-ón
)
of
Persian
līmū
lemon, any of various citrus fruits
; see
lime
.
Related Forms:
---
lemon

---
lemon - Investment & Finance Definition
A used car that develops numerous mechanical problems shortly after being purchased. Some states have lemon laws to protect consumers from these and other similar purchases.
An investment that performs poorly.
---