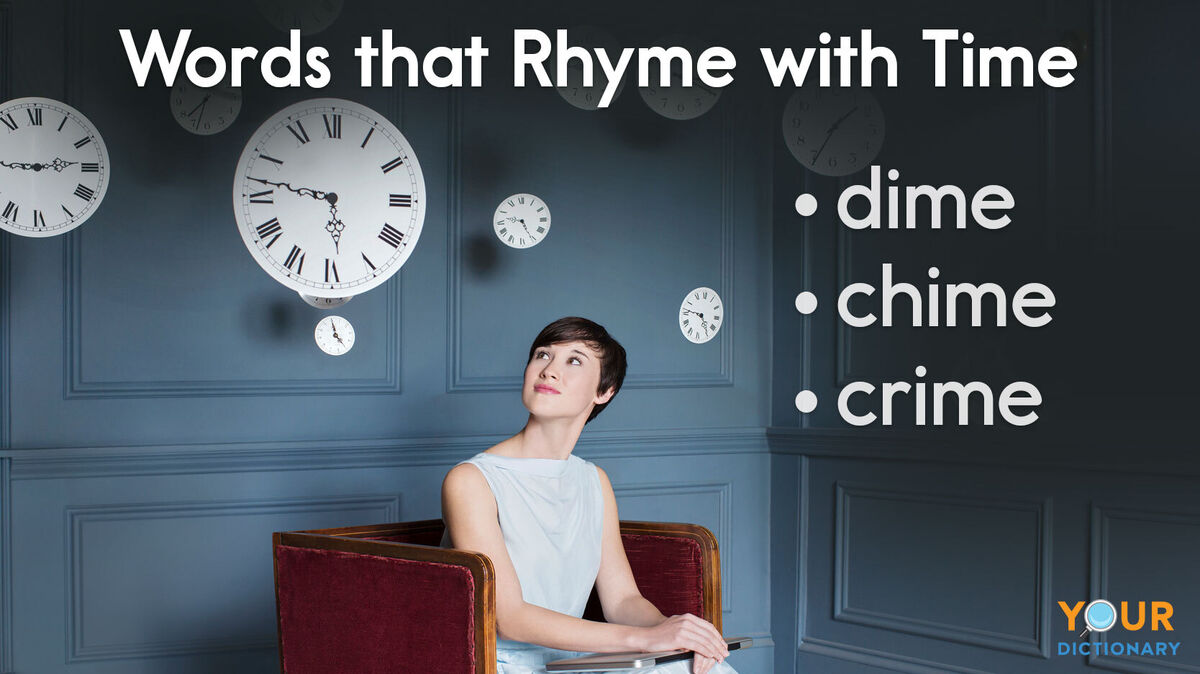 Are you looking for words that rhyme with time? From short, perfect rhymes to longer words or phrases with similar-sounding endings, you're sure to find what you need. Select the terms that work best in the poem, song lyrics or other work of prose that you're creating.
Single-Syllable Words That Rhyme With Time
Quite a few single-syllable words are perfect rhymes for the word time. A perfect rhyme is a word that, when spoken, has an ending that sounds just like the ending of the word with which it is being rhymed.
chime
crime
dime
grime
I'm
lime
Lyme
mime

prime
rhyme
rime
slime
stime
thyme
Common Multi-Syllable Words That Rhyme With Time
There are also a number of common perfect thymes for time that have two or more syllables.
Perfect Rhymes With 2 Syllables
One syllable words don't always get the point across. Explore these longer, two-syllable options.
airtime
bedtime

begrime
berhyme
chowtime

daytime
flextime

halftime
lifetime
longtime
lunchtime
mealtime
meantime

nighttime

noontime
quicklime

ragtime
realtime
retime
sometime
sublime
springtime
teatime

uptime
wartime
Perfect Rhymes With 3+ Syllables
When a longer rhyme for time fits the cadence of your work better, one of these terms might be the perfect fit.
Anaheim
anticrime

anytime
Christmastime
dinnertime
lemon-lime

maritime
monorhyme
overtime

pantomime
paradigm
showtime
summertime

wintertime

Scientific Words That Rhyme With Time
While scientific terminology might not be common in everyday language, there are quite a few scientific words that end with the same sound as the word time.
apoenzyme
chyme
coenzyme
cyme
endoenzyme

enzyme

exoenzyme
holoenzyme
isochime
isoenzyme

isozyme
lysozyme
mesenchyme
multienzyme
proenzyme
ribozyme
Imperfect Rhymes for Time
While there are quite a few perfect rhymes for time, those words might not always meet your needs. In that case, imperfect rhymes can be a good solution.
Imperfect Rhyming Words Ending in -ine
The ending of an imperfect rhyme is similar to the original wood but is not identical. Many words that end with -ine are imperfect rhymes for time.
asinine
brine

deadline
define
dine
divine
fine

hairline
incline
line

mine
nine

outline
pine
punchline
redefine
shrine
skyline
spine

swine
supine

tine

vine
whine

wine
Imperfect Rhyming Words With Other Endings
There are some other letter combinations that form wording endings that sound similar to that of the word time.
align
anodyne
assign
benign
consign
design
dyne
Frankenstein
malign
misalign
realign
resign
sign
stein

trying
Sometimes a word that's an imperfect rhyme might not fit in on its own but could be perfect when used as part of a phrase.
auld lang syne
be mine
out of line

standing in the line
priorities to align
show me a sign
Many Rhyming Options for Time