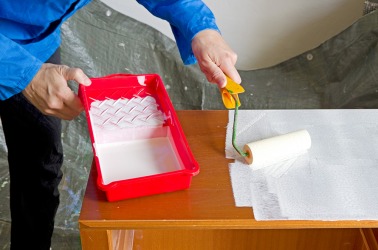 Painting a table with primer.
noun
The definition of a primer is a coating that is applied to prepare a surface before the actual paint color is applied, or a textbook that is given to students to help them learn how to read.

A sizing that is applied to a wall to prepare the surface for paint is an example of a primer.
A book that has very simple and easy words and sentences (like "See Jane run.") designed to help a child learn to read is an example of a primer.
---
primer
a simple book for teaching reading to beginners
a textbook giving the first principles of any subject
see great primer
Origin of primer
Middle English
prymer
from Medieval Latin
primarius
from Classical Latin
primus
, first: see prime
a person or thing that primes; specif.,
a small cap, tube, etc. containing an explosive, used to set off a main charge
paint, sizing, etc. used as a preparatory coating on a raw surface
---
primer
noun
An elementary textbook for teaching children to read.
A book that covers the basic elements of a subject.
Origin of primer
Middle English
devotional manual
from
Norman French
from
Medieval Latin
prīmārium
from neuter of
prīmārius
first
from
Latin
from
prīmus
; see
prime
.
noun
A cap or tube containing a small amount of explosive used to detonate the main explosive charge of a firearm or mine.
An undercoat of paint or size applied to prepare a surface, as for painting.
Genetics A segment of DNA or RNA that is complementary to a given DNA sequence and that is needed to initiate replication by DNA polymerase.
---
primer

Adjective
(not comparable)
(obsolete) First; original; primary.
---