wake

wake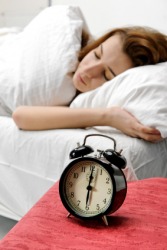 This woman will wake when the alarm goes off.
noun
Wake is a pre-burial gathering of the family and friends of someone who has recently died.

An example of a wake is an Irish celebration of a person's life shortly after passing.

The definition of a wake is the trail left in the water by a moving ship or boat.

An example of a wake is the path behind a speed boat which is cruising on a lake.
verb
To wake is defined as to come out of being asleep.

An example of to wake is an alarm clock going off in the morning, making someone become alert by taking them out of sleep.
---
wake
intransitive verb
to come out of sleep or a state like or suggestive of sleep, as a stupor or trance; awake: often with up
to be or stay awake: now only in the prp.: during one's waking hours
to become active or animated after inactivity or dormancy: often with up
to become alert (to a realization, possibility, etc.)

Chiefly Dial.

to keep watch or vigil; esp., to hold a wake over a corpse
Origin of wake
Middle English
wakien
from Old English
wacian
, to be awake and
wacan
, to arise, akin to German
wachen
from Indo-European base an unverified form
we?-
, to be active from source Classical Latin
vegere
, to arouse, be active, Sanskrit
v?ja-
, strength, speed
to cause to wake from or as from sleep: often with up
to arouse, excite, or stir up (passions, etc.) or evoke (a sound, echo, etc.)

Chiefly Dial.

to keep watch or vigil over; esp., to hold a wake over (a corpse)
Now Rare

the state of being awake

a vigil over a corpse before burial
a viewing of a corpse before a funeral, as at a funeral home

Anglican Ch.

an annual parish festival, originally held in honor of a patron saint
the track or trail left in the water by a moving ship or boat
the track or course of anything that has gone before or passed by
Origin of wake
probably via Low German from Old Norse
vök
, hole, opening in the ice: for Indo-European base see humor
in the wake of
following directly or close behind
following as a consequence
---
wake
verb
woke,
or
waked
waked,
or
wok·en
wak·ing, wakes
verb
intransitive
a. To cease to sleep; become awake: overslept and woke late.

b. To stay awake: Bears wake for spring, summer, and fall and hibernate for the winter.

c. To be brought into a state of awareness or alertness: suddenly woke to the danger we were in.

To hold or attend the wake of someone who has died.
verb
transitive
To cause to come out of sleep; awaken.
To stir, as from a dormant or inactive condition; rouse: wake old animosities.
To make aware; alert or enlighten: The report woke me to the facts of the matter.
noun
A gathering of people in the presence of the body of a deceased person in order to honor the person and console one another.
wakes used with a sing. or pl. verb Chiefly British

a. A parish festival held annually, often in honor of a patron saint.

b. An annual vacation.
Origin of wake
Middle English
wakien, waken
from
Old English
wacan
to wake up
wacian
to be awake, keep watch
; see
weg-
in Indo-European roots.
Related Forms:
Usage Note: The pairs wake, waken and awake, awaken have formed a bewildering array since the Middle English period. All four words have similar meanings, though there are some differences in use. Only wake is used in the sense "to be awake," as in expressions like waking (not wakening ) and sleeping, every waking hour. Wake is also more common than waken when used together with up, and awake and awaken never occur in this context: She woke up (rarely wakened up; never awakened up or awoke up ). Some writers have suggested that waken should be used only transitively (as in The alarm wakened him ) and awaken only intransitively (as in He awakened at dawn ), but there is ample literary precedent for usages such as He wakened early and They did not awaken her. In figurative senses awake and awaken are more prevalent: With the governor's defeat, the party awoke to the strength of the opposition. The scent of the gardenias awakened my memory of his unexpected appearance that afternoon years ago. • Regional American dialects vary in the way that certain verbs form their principal parts. Northern dialects seem to favor forms that change the internal vowel in the verb—hence dove for the past tense of dive, and woke for wake : They woke up with a start. Southern dialects, on the other hand, tend to prefer forms that add an -ed to form the past tense and the past participle of these same verbs: The children dived into the swimming hole. The baby waked up early.
noun
The visible track of turbulence left by something moving through water: the wake of a ship.
A track, course, or condition left behind something that has passed: The war left destruction and famine in its wake.
Origin of wake
Possibly from
Middle Low German
hole in the ice
of Scandinavian origin
Old Norse
vök
wake2
---
wake

Verb
(third-person singular simple present wakes, present participle waking, simple past (senses 1, 2, 3, 5) woke or (US, or English dialectal; archaic elsewhere (senses 1, 2, 3, 5) (sense 4) waked, past participle (senses 1, 2, 3, 5) woken or (US, or English dialectal; archaic elsewhere (senses 1, 2, 3, 5) (sense 4) waked)
(intransitive) (often followed by up) To stop sleeping.

I woke up at four o'clock this morning.

(often followed by up) To make somebody stop sleeping; to rouse from sleep.

The neighbour's car alarm woke me from a strange dream.

(figuratively) To put in motion or action; to arouse; to excite.
(intransitive, figuratively) To be excited or roused up; to be stirred up from a dormant, torpid, or inactive state; to be active.
To lay out a body prior to burial in order to allow family and friends to pay their last respects.
To watch, or sit up with, at night, as a dead body.
To be or remain awake; not to sleep.
Origin
Middle English waken, Old English wacan
Middle English wakien, Old English wacian
Origin
From Old English wacu.
Noun
(plural wakes)
The path left behind a ship on the surface of the water.
The turbulent air left behind a flying aircraft.
(figuratively) The area behind something, typically a rapidly moving object.
Origin
Probably Middle Low German, from Old Norse vÇ«k ("a hole in the ice") (> Danish vÃ¥ge, Icelandic vök).
Noun
(plural wakes)
A number of vultures assembled together.
Proper noun
A surname.
An island in Micronesia, administered by the Office of Insular Affairs of the United States Department of the Interior and used solely by the United States Air Force.
---