feather

feath·er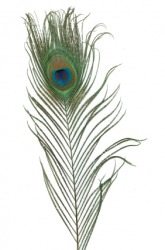 A beautiful peacock feather.
noun
The definition of a feather is one of the flat slender growths that cover the bodies of birds.

An example of a feather is what peacocks drop behind them when they molt.
---
feather
any of the growths covering the body of a bird or making up a large part of the wing surface, as down or contour feathers: a typical contour feather consists of a horny central shaft, partly hollow, from which light, soft, narrow barbs, with interlocking barbules and barbicels, extend to form a thin, flat surface
a feather or featherlike part fastened to the shaft of an arrow to help control its flight
anything like or suggesting a feather or feathers in appearance, lightness, etc., as

a trifle
a projecting part, esp. for fitting into a groove
an irregular flaw in a gem
the fringe of hair along the tail and along the back of the legs of some dogs

[pl.]

Archaic

plumage
attire; dress

class; kind: enthusiasts of every feather
frame of mind; temper; vein
the act of feathering an oar or propeller
Origin of feather
Middle English
fether
from OE; akin to German
feder
from Indo-European base an unverified form
pet-
, to fall, fly from source Classical Greek
pteron
, wing,
piptein
, Classical Latin
petere
, to fall, Sanskrit
pátati
, (he) flies
to provide (an arrow, etc.) with a feather
to cover, fit, or fringe with or as with feathers
to give a featheredge to
to join by inserting a wedge-shaped part into a groove
to turn (the blade of an oar) parallel to the line of movement in recovering after a stroke, so as to offer the least resistance to air or water
to cut or style (hair) so as to give it a feathery look or texture, as with wispy curls

Aeron.

to turn (the blade of a propeller) on its shaft so that its leading and trailing edges are nearly parallel with the airplane's line of flight, thus preventing engine damage caused by airflow turning the propeller during an engine failure
to change the angle of the blades of a helicopter rotor
to grow, or become covered with, feathers
to move, grow, or extend like feathers
to look like feathers
to feather an oar or propeller
feather in one's cap
a distinctive accomplishment; achievement worthy of pride
feather one's nest
to grow rich by taking advantage of circumstances
in fine feather
in very good humor, health, or form

---
feather
noun
One of the light, flat growths forming the plumage of birds, consisting of numerous slender, closely arranged parallel barbs forming a vane on either side of a horny, tapering, partly hollow shaft.
A feathery tuft or fringe of hair, as on the legs or tail of some dogs.
Character, kind, or nature: Birds of a feather flock together.

a. A strip, wedge, or flange used as a strengthening part.

b. A wedge or key that fits into a groove to make a joint.

The vane of an arrow.
A feather-shaped flaw, as in a precious stone.
The wake made by a submarine's periscope.
The act of feathering the blade of an oar in rowing.
verb
feath·ered, feath·er·ing, feath·ers
verb
transitive
To cover, dress, or decorate with feathers or featherlike projections.
To fit (an arrow) with a feather.

a. To thin, reduce, or fringe the edge of (wood, for example) by cutting, shaving, or making thinner.

b. To spread (paint, for example) thinly at the edges so as to blend with the surrounding area.

c. To shorten and taper (hair) by cutting and thinning.

d. To blur or soften the edge of (an image).

To apply (a brake, throttle, or other control) gently or slightly and steadily.
To turn (an oar blade) almost horizontal as it is carried back after each stroke.

a. To alter the pitch of (a propeller) so that the chords of the blades are parallel with the line of flight.

b. To alter the pitch of (the rotor of a helicopter) while in forward flight.

To turn off (an aircraft engine) while in flight.
verb
intransitive
To grow feathers or become feathered.
To move, spread, or grow in a manner suggestive of feathers: "Steam feathered out from under the bathroom door" ( Melinda Hayes )
To become thin or less dense at the edges: "That lipstick had feathered out in the corners of her mouth" ( Erin McCarthy )
To feather an oar.
To feather a propeller.
Origin of feather
Middle English
fether
from
Old English; see
pet-
in Indo-European roots.
feather
top: typical flight feather and a magnified view
bottom: on a Shire horse's leg
feather
---
feather

Noun
(plural feathers)
A branching, hair-like structure that grows on the wings of birds that allows their wings to create lift.
Long hair on the lower legs of a dog or horse, especially a draft horse, notably the Clydesdale breed. Narrowly only the rear hair.
A longitudinal strip projecting from an object to strengthen it, or to enter a channel in another object and thereby prevent displacement sideways but permit motion lengthwise; a spline.
Kind; nature; species (from the proverbial phrase "birds of a feather").
One of the two shims of the three-piece stone-splitting tool known as plug and feather or plug and feathers; the feathers are placed in a borehole and then a wedge is driven between them, causing the stone to split.

The angular adjustment of an oar or paddle-wheel float, with reference to a horizontal axis, as it leaves or enters the water.
Verb
(third-person singular simple present feathers, present participle feathering, simple past and past participle feathered)
To cover or furnish with feathers.
To arrange in the manner or appearance of feathers.

The stylist feathered my hair.

(intransitive, rowing) To rotate the oars while they are out of the water to reduce wind resistance.
(aeronautics) To streamline the blades of an aircraft's propeller by rotating them perpendicular to the axis of the propeller when the engine is shut down so that the propeller doesn't windmill as the aircraft flies.

After striking the bird, the pilot feathered the left, damaged engine's propeller.

(computer graphics) To intergrade or blend the pixels of an image with those of a background or neighboring image.
To adorn, as with feathers; to fringe.
To render light as a feather; to give wings to.
To enrich; to exalt; to benefit.
Origin
From Middle English fether, from Old English feþer, from Proto-Germanic *feþrō, from Proto-Indo-European *péth₂r̥ ~ pth₂én- ("feather, wing"), from *peth₂- ("to fly"). The Indo-European root is also the source of Greek πέτομαι (petomai), Albanian shpend ("bird"), Latin penna, Old Armenian թիռ (tʿiṙ).
---