panache

pa·nache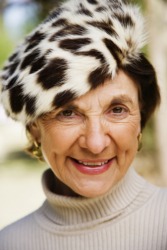 A mature woman with panache.
noun
Panache is a distinctive and flamboyant nature, style or action.

An example of panache is when someone always dresses in stylish and flamboyant clothes.
---
panache
a plume of feathers, esp. on a helmet
dashing elegance of manner; carefree, spirited self-confidence or style; flamboyance
Origin of panache
French from Old French
pannache
from OIt
pennacchio
from Ecclesiastical Late Latin
pinnaculum,
tuft, plume: see pinnacle
---
panache
noun
Dash; verve.
A bunch of feathers or a plume, especially on a helmet.
Origin of panache
French
plume, verve
from
Italian
pinnacchio
plume
from
Late Latin
pinnāculum
diminutive of
Latin
pinna
feather, wing
; see
pet-
in Indo-European roots.
---
panache

---