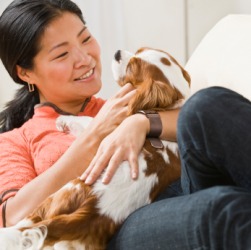 This woman's pet is a dog.
noun
The definition of a pet is a companion animal that you take care of and that keeps you company, like a dog or a cat.

An example of pet is your dog.
verb
To pet is to rub, pat or touch something or someone with affection.

An example of pet is when you run your hands through your dog's fur.
---
pet
an animal that is tamed or domesticated and kept as a companion or treated with fondness
a person who is treated with particular affection or indulgence; favorite
Origin of pet
origin, originally Scottish dialect, dialectal , probably back-formation from Middle English
pety,
small: see petty
kept or treated as a pet: a pet duck
especially liked; favorite
greatest; especial; particular: one's pet peeve
showing fondness or affection: a pet name
transitive verb
pet′ted

,

pet′ting
to stroke or pat (now, esp., an animal) affectionately
to be indulgent toward; pamper
Informal
to kiss, embrace, fondle, etc., passionately in mutual sexual stimulation
a state of sulky peevishness or ill humor
Origin of pet
from earlier phrase
to take the pet
from uncertain or unknown; perhaps
intransitive verb
pet′ted

,

pet′ting
to be in a pet; sulk
PET
polyethylene terephthalate
Pet
PET
---
pet
noun
An animal kept for enjoyment or companionship.
An object of the affections.
A person especially loved or indulged; a favorite: the teacher's pet.
adjective
Kept as a pet: a pet cat.

a. Particularly cherished or indulged: a pet grandchild.

b. Expressing or showing affection: a pet name.

Being a favorite: a pet topic.
verb
pet·ted, pet·ting, pets
verb
transitive
To stroke or caress gently. See Synonyms at
caress
.
verb
intransitive
To stroke or fondle amorously.
Origin of pet
Scottish Gaelic
peata
tame animal, pet
from
Old Irish
Related Forms:
noun
A fit of bad temper or pique.
intransitive verb
pet·ted, pet·ting, pets
To be sulky and peevish.
Origin of pet
Origin unknown
PET
abbreviation
positron emission tomography
Pet.
---
pet

Verb
(third-person singular simple present pets, present participle petting, simple past and past participle petted)
(informal) To stroke or fondle (another person) amorously.
(intransitive, informal) Of two or more people, to stroke and fondle one another amorously.
(archaic, intransitive) To be a pet.
Adjective
(not comparable)
Favourite; cherished.

a pet child
a pet theory
Origin
Originally from Northern English and Scots dialects, origin is unsure but may have arisen due to influence of petty pertaining to children and later companion animals. Almost certainly of Germanic etymology.
Noun
(plural pets)
Abbreviation of petition.
Origin
Diminutive of petal.
---