noun
The definition of an idol is a false god or an object that is adored or worshipped.

An example of an idol is a rock that people pray to.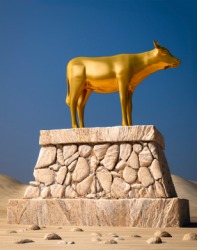 An idol in the shape of a golden calf.
---
idol definition by Webster's New World
noun
an image of a god, used as an object or instrument of worship
in monotheistic belief, any heathen deity
any object of ardent or excessive devotion or admiration
a false notion or idea that causes errors in thinking or reasoning

Archaic

anything that has no substance but can be seen, as an image in a mirror

Obsolete

any image or effigy
an impostor
Origin: Middle English idole ; from Old French ; from Classical Latin idolum, an image, form, specter, apparition (in Ecclesiastical Late Latin idol) ; from Classical Greek eidōlon, an image, phantom (in Ecclesiastical Late Greek idol) ; from eidos, form: see -oid
Webster's New World College Dictionary Copyright © 2010 by Wiley Publishing, Inc., Cleveland, Ohio. Used by arrangement with John Wiley & Sons, Inc.
---
idol definition by American Heritage Dictionary
noun
a. An image used as an object of worship.

b. A false god.

One that is adored, often blindly or excessively.
Something visible but without substance.
Origin: Middle English, from Old French idole, from Late Latin īdōlum, from Greek eidōlon, phantom, idol, from eidos, form; see weid- in Indo-European roots.