icon
[ī′kän′]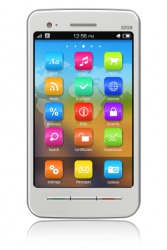 Icons on a smartphone.
noun
The definition of an icon is a graphic representation of something, a person or thing that is symbolic or is a noted figure.

An example of an icon is the "home" or "finder" icon on your computer.
An example of an icon is a beautiful celebrity who is the best example of the western ideal of beauty.
An example of an icon is a painting of Jesus Christ.
---
icon
noun
an image; figure; representation
any of various stylized figures, as displayed on a microcomputer screen, representing available functions or resources

Eastern Orthodox Ch.

an image or picture of Jesus, Mary, a saint, etc., venerated as sacred
any person or thing that is revered
someone or something regarded as embodying the essential characteristics of an era, group, etc.
Origin of icon
Classical Latin ; from Classical Greek
eikōn
, an image, figure (in Late Greek sacred image) ; from Indo-European base an unverified form
weik-
, to resemble from source Lithuanian
į-vỹkti
, to happen, become true
icono-: used before a vowel
---
icon
noun
also i·kon

a. An image; a representation.

b. A representation or picture of a sacred or sanctified Christian personage, traditionally used and venerated in the Eastern Church.

An important and enduring symbol: "The disposable lighter is an icon of the throwaway mentality that began to take shape in the years following World War II" (Susan Freinkel).
One who is the object of great attention and devotion; an idol: "He is &ellipsis; a pop icon designed and manufactured for the video generation" (Harry F. Waters).
Computers A picture on a screen that represents a specific file, directory, window, option, or program.
Origin of icon
Latin
īcōn
, from Greek
eikōn
, from
eikenai
,
to be like, seem
.
icon
Holy Virgin of Smolensk
---
icon
Noun
(plural icons)
An image, symbol, picture, or other representation usually as an object of religious devotion.
A religious painting, often done on wooden panels.
A person or thing that is the best example of a certain profession or some doing.

That man is an icon in the business; he personifies loyalty and good business sense.

A small picture which represents something (such as an icon on a computer screen which when clicked performs some function.)
(linguistics) A type of noun whereby the form reflects and is determined by the referent; onomatopoeic words are necessarily all icons. See also symbol and index.
Pictual representations of files, programs and folders on a computer.
Origin
From Latin icon, from Ancient Greek εἰκών (eikōn, "likeness, image, portrait"). Eastern Orthodox Church sense is attested from 1833. Computing sense first recorded in 1982.
---
icon - Computer Definition
(1) (Icon) A high-level programming language maintained by the University of Arizona (www.cs.arizona.edu/icon). Using ALGOL syntax, Icon features extensive string handling similar to SNOBOL and automatic generation of multiple outputs, such as a range of integers or strings. Jcon is the Java-based implementation. See SNOBOL.
(2) A small, on-screen, graphic element that may represent any action or resource in a computing device such as an application, file, menu or setting. Clicking or tapping the icon selects the item. On Web pages, icons are widely used to link to other pages (see hypergraphic). See emoji.
---