iconic

i·con·ic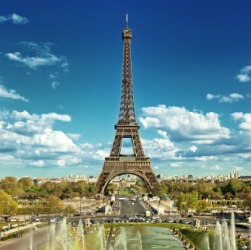 An example of iconic is The Eiffel Tower as a symbol of Paris.
adjective
The definition of iconic is someone or something that is a representation of something else.

An example of iconic is the Eiffel Tower being a symbol of Paris.
---
iconic
of, or having the nature of, an icon
done in a fixed or conventional style: said of certain statues and busts
Origin of iconic
Late Latin
iconicus
from Classical Greek
eikonikos
from
eik?n
, an image: see icon
---
iconic
adjective
Of, relating to, or having the character of an icon.
Symbolic, emblematic, or representative: a classroom scene that is iconic of what is wrong with the education system.
Having a conventional formulaic style. Used of certain memorial statues and busts.
Related Forms:
---
iconic

Adjective
(comparative more iconic, superlative most iconic)
Relating to, or having the characteristics of, an icon.
Famously and distinctively representative of its type.
(linguistics) Representing something; symbolic.

an iconic gesture in sign language
---
iconic - Computer Definition
(1) Based on small graphic elements. See icon.
(2) Symbolic of the present culture, especially dealing with the ideals, people and products considered noteworthy. For example, Steve Jobs was often called an "iconic CEO," and his iPhone the "iconic smartphone."
---