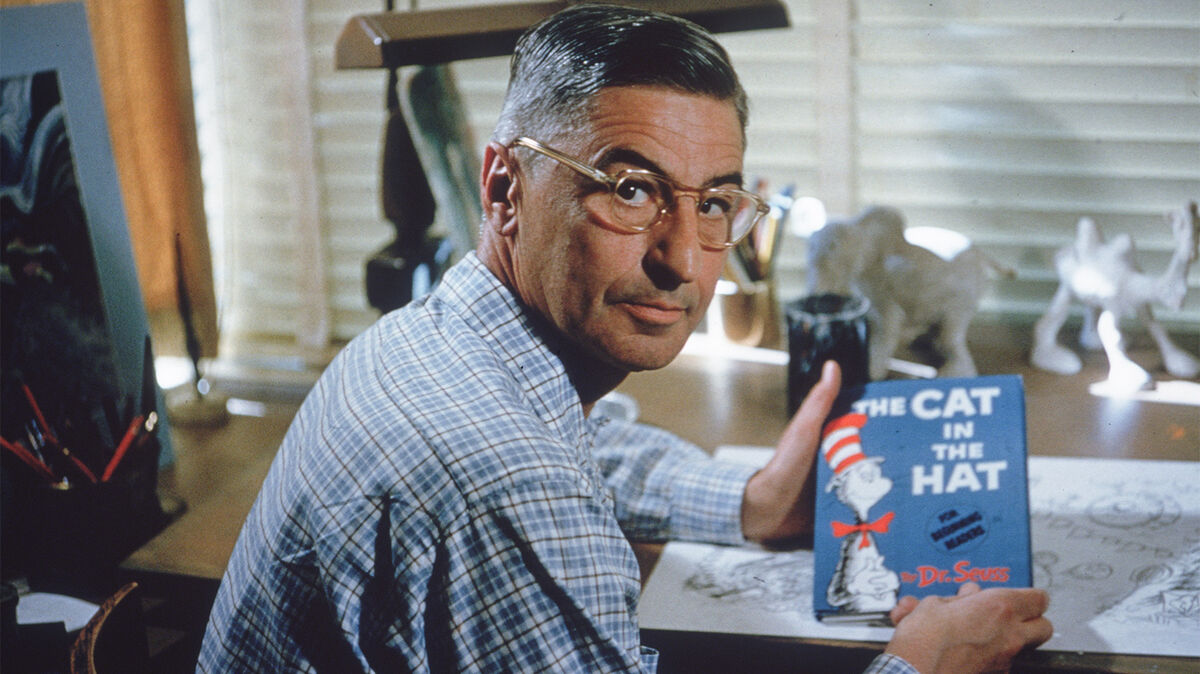 Dr. Seuss was more than just the creator of the Cat in the Hat. From a love for fancy hats to serving in the military, Theodor Geisel, also known as Dr. Seuss, was a unique and interesting person. Learn a few interesting Dr. Seuss facts you might not have known.
Seuss Isn't Pronounced Soose
If you heard that Seuss was pronounced zoice rather than soose, you might be thinking, wait a minute. However, Theodor "Ted" Geisel adopted the pen name from his middle name and mother's maiden name, Seuss, which is pronounced zoice. There is even a poem about it. However, many people started mispronouncing it as soose. Since soose rhymes with mother goose, Giesel went along with it. Aren't you glad that he did?
He Didn't Have a Favorite Book
As an author, you'd think there would be a book that you would cherish the most. However, Dr. Seuss didn't have a favorite book. Like a proud father, he loved all of his creations equally.
He Also Created Ad Campaigns
Before becoming the iconic Dr. Seuss, Theodor Seuss Geisel was a wordsmith with several successful ad campaigns under his belt. He wrote and illustrated striking ad campaigns using his iconic style that kids love. "Quick Henry, the Flit" was one of his most famous slogans for Flit insect repellent.
Green Eggs and Ham Was Created on a Bet
It might be hard to believe, but one of Dr. Seuss's most famous works originated on a bet. That's right, a bet. Bennett Cerf bet Dr. Seuss that he couldn't create a book that only uses 50 words or fewer. Well, Dr. Seuss proved him wrong with his famous book Green Eggs and Ham, which uses exactly 50 unique words. Well done, Dr. Seuss.
While Theodor Seuss Geisel was accepted into the prestigious Oxford University with hopes of becoming a professor, it wasn't really for him. Instead, he chose to drop out of the university in 1927 and move back to the U.S. with his wife to become a cartoonist.
Everyone has their own creative process for creating children's books, but for Dr. Seuss, it typically started with a doodle. With the idea at hand, his books would start to take shape and life. If you ever thought doodling was worthless, you were wrong.
If you thought the cat was the only one that loved wacky hats, think again. Dr. Seuss loved wacky hats too. His collection of boisterous and gaudy headgear was hidden in a secret "hat closet." He liked to show off his hat collection at parties and have friends share their hats too.
Though Theodor Geisel is most famous for his creations made on the page, he also made taxidermy sculptures similar to his literary creatures. These sculptures were made using real animal parts like antlers, horns and teeth.
He Wrote for The Jack-O-Lantern in College
After high school, Theodor Geisel went to Dartmouth College, where he was a writer and editor of the Dartmouth magazine called The Dartmouth Jack-O-Lantern. This humor magazine featured several of Dr. Seuss's unique cartoons and lyrical humor. However, he was banned from working on the magazine after a drinking incident. To get around this, he contributed work under the name Seuss.
He Illustrated The Pocket Book of Boners
Despite what you might think, one of Dr. Seuss's early books before switching to childrens' literature was called The Pocket Book of Boners. Here the word boner is a synonym for a blooper. Dr. Seuss illustrated this fun book full of bad answers from school-aged children before his first children's book hit the market.
He Served in World War II
Dr. Seuss might be most well known for his children's books, but he was also a war veteran. He joined the Army in 1943 and created a series of cartoons, pamphlets and even movies for the war effort. He was actually trapped in Belgium during the Battle of the Bulge, and he won The Legion of Merit award.
Geisel Created Political Posters
Prior to joining the war, Dr. Seuss created a series of political posters to promote war bonds and show Adolf Hitler's evils. His iconic illustration style and rhymes effectively supported the war effort.
He's an Academy Award Winner
Dr. Seuss was multi-talented. In fact, during his time in the military, he created a few short documentary videos that were award winners. The first, Your Job in Germany, was remade by Jack Warner and won an Academy Award in 1946. Additionally, he won an award for Best Documentary Feature for his title Design for Death.
He Won a Pulitzer Prize in 1984
In 1984, Dr. Seuss was awarded the Pulitzer special citation award. The award was given to him for his contribution to promoting children's education and fun.
Dr. Seuss might have received his honorary doctorate from Dartmouth University in 1956, but he never completed a doctorate program. The Dr. in his name was a way to honor his father's hopes that he'd become a doctor.
Interesting Dr. Seuss Facts
Dr. Seuss was an interesting illustrator and writer of children's books. But he was also so much more. During his lifetime, he contributed to multiple areas and won multiple awards for his contributions to the war, literature and the arts. Learn more facts you might not know about famous artists by taking a look at interesting facts about Pablo Picasso. Explore the life of another famous author with some fun facts about Shakespeare.