symbol

sym·bol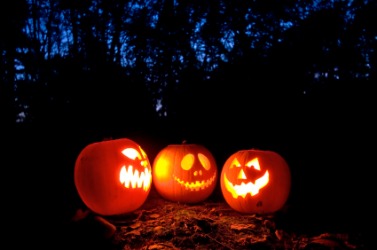 The Jack o'lantern is a symbol of Halloween.
noun
The definition of a symbol is something that stands for or represents something else.

An example of symbol is a jack o' lantern representing Halloween.
---
symbol
something that stands for, represents, or suggests another thing; specif.,

an object used to represent something abstract: the dove is a symbol of peace
a stylized emblem: an upside-down is a peace symbol
a person who represents a quality, movement, etc.: a sex symbol

a written or printed mark, letter, abbreviation, etc. standing for an object, quality, process, quantity, etc., as in music, mathematics, or chemistry

Psychoanalysis

an act or object representing an unconscious desire that has been repressed
Origin of symbol
from French and L: French
symbole
from Classical Latin
symbolus, symbolum
from Classical Greek
symbolon,
token, pledge, sign by which one infers a thing from
symballein,
to throw together, compare from
syn-,
together +
ballein,
to throw: see ball
transitive verb
-·boled

or

-·bolled

,

-·bol·ing

or

-·bol·ling
symbolize
---
symbol
noun
a. Something that represents something else by association, resemblance, or convention, especially a material object used to represent something invisible: The lamb is a symbol of innocence.

b. An instance that typifies a broader pattern or situation: His striking out to end the rally was a symbol of everything that had gone wrong with the team over the past month.

A printed or written sign used to represent an operation, element, quantity, quality, or relation, as in mathematics or music.
Psychology An object or image that an individual unconsciously uses to represent repressed thoughts, feelings, or impulses: a phallic symbol.
Origin of symbol
Middle English
symbole
creed
from
Old French
from
Latin
symbolum
token, mark
from
Greek
sumbolon
token for identification (by comparison with a counterpart)
sun-
syn-
ballein
to throw
; see
gwelə-
in Indo-European roots.
---
symbol

---
symbol - Computer Definition

A sign that has a specific meaning in a specific context, such as mathematics. For example, the Greek letter (lambda) is used in physics to mean wavelength, which is the inverse of frequency, represented by the Latin letter f.
Something that represents or suggests something else, usually something abstract.
In digital communications, the smallest amount of data transmitted at one time. In a purely digital system, such as a fiber optic transmission system (FOTS), a symbol is an individual bit. In a digital system involving modulation of an analog carrier waveform, a symbol is an individual baud, or signal change, which may represent multiple bits. In Fiber Distributed Data Interface (FDDI), a broadband LAN standard, a five-bit symbol represents a four-bit nibble. See also baud, bit, FDDI, intersymbol interference, LAN, modulation, and nibble.
---
In data compression, a unit of data (byte, floating point number, spoken word, etc.) that is treated independently.
---