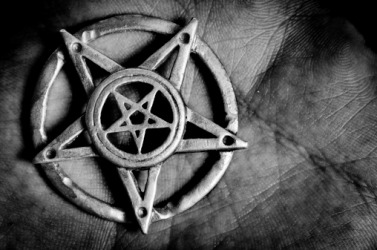 pentagram
noun
The definition of a pentagram is a figure drawn with five continuous straight strokes.

A pentagram is a five-sided star associated with magic.
---
pentagram
a five-pointed star; specif., a pentacle
any figure of five lines
Origin of pentagram
Classical Greek
pentagrammon,
neuter of
pentagrammos,
having five lines: see penta- and -gram
---
pentagram
---
pentagram

Noun
(plural pentagrams)
The shape of a five-pointed star constructed of five intersecting lines meeting at the vertices, such that a central pentagon and five surrounding isosceles triangles are formed; often with magical connotations.
(mathematics) a 5/2 star polygon
Origin
From Ancient Greek πεντάγραμμον (pentagrammon), noun form of the adjectives πεντάγραμμος (pentagrammos) and πεντέγραμμος (pentegrammos), five-lined, having five lines Equivalent to penta- +"Ž gram.
---