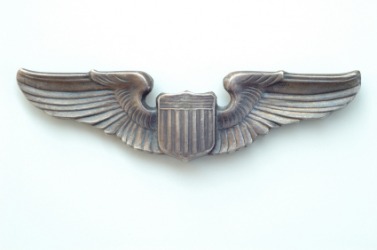 An emblem of the U.S. Air Force.
noun
The definition of an emblem is a badge or symbol, especially a picture with words that are a motto.

An example of an emblem is the Girl Scout symbol.
---
emblem
Historical

a picture with a motto or verses, allegorically suggesting some moral truth, etc.
a visible symbol of a thing, idea, class of people, etc.; object or representation that stands for or suggests something else: the cross is an emblem of Christianity
a sign, badge, or device
Origin of emblem
origin, originally , inlaid work from Classical Latin
emblema
from Classical Greek
embl?ma
, insertion from
emballein
from
en-
, in +
ballein
, to throw, put: see ball
---
emblem
noun
A distinctive badge, design, or device: trucks marked with the company emblem; the emblem of the air force.
An object or representation that functions as a symbol: "a bed of sweet-scented lilies, the emblem of France" ( Amy Steedman )
An allegorical picture usually inscribed with a verse or motto presenting a moral lesson.
Origin of emblem
Middle English
pictorial fable
from
Latin
emblēma
raised ornament
from
Greek
embossed design
from
emballein
to insert, set in
en-
in
; see
en-
2
.
ballein
to throw
; see
gwelə-
in Indo-European roots.
emblem
emblem of the National Aeronautics and Space Administration
---
emblem

Noun
(plural emblems)
A representative symbol, such as a trademark or logo.

The trucks were emblazoned with the emblem of the Red Cross and were not supposed to be targeted.

Something which represents a larger whole.

The rampant poverty in the ethnic slums was just an emblem of the group's disenfranchisement by the society as a whole.

Inlay; inlaid or mosaic work; something ornamental inserted in a surface.
---