noun
The definition of an emblem is a badge or symbol, especially a picture with words that are a motto.

An example of an emblem is the Girl Scout symbol.
YourDictionary definition and usage example. Copyright © 2013 by LoveToKnow Corp.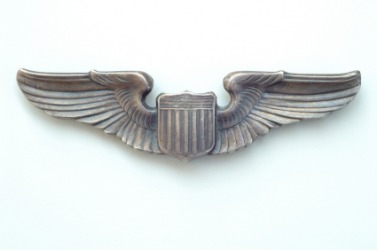 An emblem of the U.S. Air Force.
Licensed from iStockPhoto
---
noun
Historical

a picture with a motto or verses, allegorically suggesting some moral truth, etc.
a visible symbol of a thing, idea, class of people, etc.; object or representation that stands for or suggests something else: the cross is an emblem of Christianity
a sign, badge, or device
Origin: origin, originally , inlaid work ; from Classical Latin emblema ; from Classical Greek emblēma, insertion ; from emballein ; from en-, inch(es) plush ballein, to throw, put: see ball
Webster's New World College Dictionary
Copyright © 2010 by Wiley Publishing, Inc., Cleveland, Ohio.
Used by arrangement with John Wiley & Sons, Inc.
---
noun
An object or a representation that functions as a symbol. See Synonyms at sign.
A distinctive badge, design, or device: trucks marked with the company emblem; the emblem of the air force.
An allegorical picture usually inscribed with a verse or motto presenting a moral lesson.
Origin: Middle English, pictorial fable, from Latin emblēma, raised ornament, from Greek, embossed design, from emballein, to insert, set in : en-, in; see en-2 + ballein, to throw; see gwelə- in Indo-European roots.
The American Heritage® Dictionary of the English Language
, 4th edition Copyright © 2010 by Houghton Mifflin Harcourt Publishing Company. Published by Houghton Mifflin Harcourt Publishing Company. All rights reserved.