god

god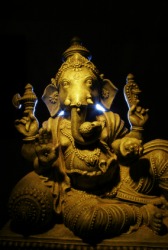 Ganesha is a Hindu god.
noun
The definition of a god is an image, person or thing that is worshiped, honored or believed to be all-powerful or the creator and ruler of the universe.

An example of a god is Ganesha, a Hindu diety.
---
god
any of various beings conceived of as supernatural, immortal, and having special powers over the lives and affairs of people and the course of nature; deity, esp. a male deity: typically considered objects of worship
an image that is worshiped; idol
a person or thing deified or excessively honored and admired
[G-] in monotheistic religions, the creator and ruler of the universe, regarded as eternal, infinite, all-powerful, and all-knowing; Supreme Being; the Almighty
Origin of god
Middle English from OE, akin to German
gott
, Gothic
guth
, probably from Indo-European base an unverified form
?hau-
, to call out to, invoke from source Sanskrit
havaté
, (he) calls upon
[usuallyG-] used variously, and in interjectional phrases, as an oath and as an expression of relief, determination, surprise, anger, etc.: God, I'm glad that's over! I'll see this through, by god! God almighty! my God!
God willing
if God is willing: used to express a wish
---
god
noun
God

a. A being conceived as the perfect, omnipotent, omniscient originator and ruler of the universe, the principal object of faith and worship in monotheistic religions.

b. The force, effect, or a manifestation or aspect of this being.

A being of supernatural powers or attributes, believed in and worshiped by a people, especially a male deity thought to control some part of nature or reality.
An image of a supernatural being; an idol.
One that is worshiped, idealized, or followed: Money was their god.
Origin of god
Middle English
from
Old English; see
gheu(ə)-
in Indo-European roots.
---
god

Noun
(plural gods)
A deity.

A supernatural, typically immortal being with superior powers.
A male deity.
A supreme being; God.

The most frequently used name for the Islamic god is Allah.

An idol.

Something or someone particularly revered, worshipped, idealized, admired and/or followed.

An exceedingly handsome man.

Lounging on the beach were several Greek gods.

(Internet) The person who owns and runs a multi-user dungeon.
Usage notes
The word god is often applied both to males and to females. The word was originally neuter in Proto-Germanic; monotheistic – notably Judeo-Christian – usage completely shifted the gender to masculine, necessitating the development of a feminine form, goddess.
Verb
(third-person singular simple present gods, present participle godding, simple past and past participle godded)
To idolize.
to deify
Origin
From Middle English, from Old English god ("deity") (akin to Old High German got (a rank of deity)), originally neuter, then changed to masculine to reflect the change in religion to Christianity, both from the Proto-Germanic *gudą (compare Dutch god, German Gott, Danish gud), from the Proto-Indo-European *ǵʰuto- ("invoked (one)"), from Proto-Indo-European *ǵʰewH- ("to call, to invoke") or *ǵʰew- ("to pour"). Not related to the word good.
Usage notes
God is often referred to by masculine pronouns, not necessarily implying that the speaker believes God to be male. God is also referred to by pronouns that begin with a capital letter, as a sign of respect, in many languages written in Latin script. In English, these include He, Him, His and Himself. Many Jews follow a prohibition in their tradition against using this term and other equivalents in writing (see G-d).
---