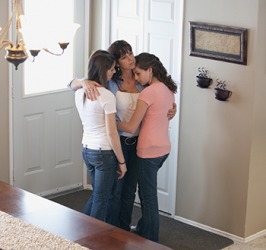 The family began their shiva after returning from the funeral of their grandmother.
noun
Shiva is the seven days of mourning just after the funeral of a close relative in Judaism.

An example of a shiva is the week a Jewish man spends mourning with his family after his mother dies.
---
shiva
[
often not in italics
]
Judaism
the formal mourning period of seven days, observed as in the home of the deceased, during which friends visit and comfort the bereaved: often in the phrase
sit shiva
, to observe the period of
shiva
Origin of shiva
from Classical Hebrew (language)
shiva
, seven
Shiva
---
shiva
also shiv·ah or shib·ah
noun
Judaism
A seven-day period of formal mourning observed after the funeral of a close relative.
Origin of shiva
Yiddish
shive
from
Hebrew
šib'â
seven
šb&ayin;
Shiva
also Si·va
noun
Hinduism
One of the principal Hindu deities, worshiped as the destroyer and restorer of worlds and in numerous other forms. Shiva is often conceived as a member of the Trimurti, along with Brahma and Vishnu.
Origin of Shiva
Sanskrit
śivah
from
śiva-
auspicious, dear
; see
kei-
in Indo-European roots.
Related Forms:
Shi′va·ism Si′va·ism

noun
Shi′va·ist Si′va·ist

noun
Shiva
13th-century Indian bronze statue
---
shiva

---
shiva - Computer Definition
(Shiva Corporation, Cambridge, MA) A manufacturer of networking equipment. Founded in 1985, Shiva's first products were its network modems for Macs and PCs. LANRover was a proprietary remote access server, providing dial-up access to LANs. Shiva also developed the remote access software in Windows 95. In 1999, the company was acquired by Intel, and via subsequent acquisitions by Simple Access, Inc., Mernet and Eicon, Shiva products wound up in Dialogic Corporation (www.dialogic.com).
---