goddess

god·dess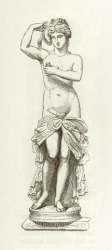 The Greek goddess Aphrodite.
noun
The definition of a goddess is a female god, or a beautiful woman.

An example of a goddess is Athena.
---
goddess
a female god
a woman greatly admired, as for her beauty
[alsoG-] a feminine deity proposed by some as having been worshiped from ancient times and as variously present as a goddess in many of the world's myths and religions: often with the
Origin of goddess
Middle English
godesse
---
goddess
noun
A female being of supernatural powers or attributes, believed in and worshiped by a people.
often Goddess A female being believed to be the source of life and being and worshiped as the principal deity in various religions. Used with the.
An image of a female supernatural being; an idol.
Something, such as fame or wealth, that is worshiped or idealized.
A woman of great beauty or grace.
---
goddess

---