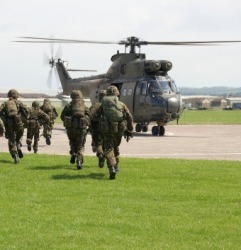 A powerful army is a juggernaut.
noun
Juggernaut is defined as something that inspires devotion or unquestioning sacrifice.

An example of a juggernaut is a religious movement that calls on believers to sacrifice their property to the group.

The definition of a juggernaut is something that is strong and destructive, stopping for nothing.

An example of a juggernaut is a strong army entering a war zone.
An example of a juggernaut is a political campaign that is unstoppable.
---
Juggernaut
an incarnation of the Hindu god Vishnu, whose idol, it was formerly supposed, so excited his worshipers when it was hauled along on a large car during religious rites that they threw themselves under the wheels and were crushed
[usuallyj-] anything that exacts blind devotion or terrible sacrifice
[usuallyj-] any relentless, destructive, irresistible force
Origin of Juggernaut
altered from Hindi
Jagann?th
from Sanskrit
Jagann?tha,
lord of the world from
jagat,
world +
n?tha,
lord
---
juggernaut
noun
An overwhelming or unstoppable force: "With the newly empowered juggernaut of the Pentagon bureaucracy gaining momentum, the president was no longer in control" ( James Carroll )
Origin of juggernaut
Hindi
jagannāth
title of Krishna
from
Sanskrit
jagannāthah
lord of the world
jagat
moving, the world
(
from
) (
earlier present participle of
jigāti
he goes
; see
gwā-
in Indo-European roots.)
nāthah
lord
(
from
nāthate
he helps, protects
)
Word History:
For centuries, the Indian city of Puri has held an annual festival in honor of the god Krishna, worshiped under his Sanskrit title
Jagannāthah,
"Lord of the World." In the middle of the rainy season, devotees transport highly adorned figures representing Krishna, his brother Baladeva, and his half-sister Subhadra from the temple where they usually reside to another temple some two and a half miles away. There, Krishna enjoys the new locale until his return a week or two later. Krishna and his siblings are transported in three chariots—massive towerlike structures about 45 feet high, mounted on many wheels, and lavishly decorated. Thousands of devotees pull the chariots with ropes and are cheered on by a crowd of over a million pilgrims. Worshipers try to obtain blessings by touching the ropes, and some have been crushed in the throng or have fallen under the wheels. Early Western observers in colonial India greatly exaggerated the number of these deaths, however, and sensationalized reports of the incidents led to the borrowing of
Jagannāthah
into English as
juggernaut,
"an irresistible force that rolls unstoppably over its victims."
---
juggernaut

Origin
From Hindustani Hindi जगन्नाथ/Oriya ଜଗନ୍ନାଥ/ Urdu جگنّاتھ (jagannāth), from Sanskrit जगन्नाथ (jagannātha, "lord of the universe") (Jagannath), a title for the Hindu deity Vishnu's avatar Krishna. English form influenced by suffix -naut ("sailor").
From British colonial era in India, witnessing the Rath Yatra (chariot parade) at Puri, Orissa. The festival features a huge annual procession, with a wagon of the idol of Lord Krishna. Pulled with ropes by hundreds of devotees, the wagon develops considerable momentum and becomes unstoppable.
---