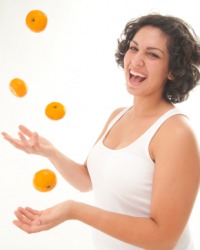 A woman juggles tangerines.
---
juggle definition by Webster's New World
transitive verb
juggled, juggling
to perform skillful tricks of sleight of hand with (balls, knives, etc.) as by keeping a number of them in the air continuously
to make several awkward attempts to catch or hold (a ball, etc.)
to manipulate or practice trickery on so as to deceive or cheat: to juggle figures so as to show a profit
Origin: Middle English jogelen ; from Old French jogler, to juggle, play false ; from Midieval Latin jogulari, to play, entertain ; from Classical Latin joculari, to joke ; from joculus, diminutive of jocus, joke
intransitive verb
to toss up a number of balls, knives, etc. and keep them continuously in the air
noun
an act of juggling
a clever trick or deception
Webster's New World College Dictionary Copyright © 2010 by Wiley Publishing, Inc., Cleveland, Ohio. Used by arrangement with John Wiley & Sons, Inc.
---
juggle definition by American Heritage Dictionary
verb
jug·gled
,
jug·gling
,
jug·gles
verb
, transitive
To keep (two or more objects) in the air at one time by alternately tossing and catching them.
To have difficulty holding; balance insecurely: juggled the ball but finally caught it; shook hands while juggling a cookie and a teacup.
To keep (more than two activities, for example) in motion or progress at one time: managed to juggle a full-time job and homemaking.
To manipulate in order to deceive: juggle figures in a ledger.
verb
, intransitive
To juggle objects or perform other tricks of manual dexterity.
To make rapid motions or manipulations: juggled with the controls on the television to improve the picture.
To use trickery; practice deception.
noun
The act of juggling.
Trickery for a dishonest end.
Origin: Middle English jogelen, to entertain by performing tricks, from Old French jogler, from Latin ioculārī, to jest, from ioculus, diminutive of iocus, joke; see yek- in Indo-European roots.