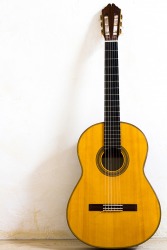 The guitar is propped against the wall.
noun
The definition of a prop is a person or thing who provides support or holds something up, or an object used on the set of a play or movie.

A pole that keeps up an awning is an example of a prop.
A clipboard used by a character in a play is an example of a prop.
verb
To prop is to position something in a way that it can provide support, or to lean an object up against something else so it stays close to upright.

When you stick a pole under an awning to make the awning stay up, this is an example of a situation where you prop up the awning.
When you lean your instrument against the wall so it doesn't fall over, this is an example of a time when you prop up your instrument.
---
prop
a rigid support, as a beam, stake, or pole, placed under or against a structure or part
a person or thing that gives support or aid to a person, institution, etc.
Origin of prop
Middle English
proppe
from MDu, prop, uncertain or unknown; perhaps akin to German
pfropfen
, stopper
transitive verb
propped

,

prop′ping
to support, hold up, or hold in place with or as with a prop: often with up
to place or lean (something) against a support
to sustain or bolster
propeller (as of an aircraft)
proper(ly)
property
proposition
proprietor
---
prop
noun
An object placed beneath or against a structure to keep it from falling or shaking; a support.
One that serves as a means of support or assistance.
transitive verb
propped, prop·ping, props
To support by placing something beneath or against; shore up.
Origin of prop
Middle English
proppe
probably from
Middle Dutch
noun
Any of the articles other than costumes and scenery used by an actor or performer during a performance on stage or in a film.
Someone or something displayed to impress others or provide a false impression.
Origin of prop
Short for
property
noun
Informal
A propeller.
prop.
abbreviation
proper
property
proposition
prop-
prefix
Related to or derived from propionic acid: propane.
Origin of prop-
From
propionic acid
---
prop

Noun
(plural props)
An object placed against or under another, to support it; anything that supports.

They stuck a block of wood under it as a prop.

One of the seashells in the game of props.
Verb
(third-person singular simple present props, present participle propping, simple past and past participle propped)
To support or shore up something.

Try using a phone book to prop up the table where the foot is missing.
Origin
Akin to German Pfropfen and Danish proppe, compare Latin propago ("layer of a plant")
Usage notes
In stagecraft, usually the term prop is reserved for an object with which an actor or performer interacts (e.g., a glass, a book, or a weapon). Larger items adding to the scene, (e.g. chairs) are considered part of the set.
Props are often non-functional. A prop that is required to function is a "practical" prop.
Usage notes
This is the customary abbreviation of this term as used in case citations. See, e.g., The Bluebook: A Uniform System of Citation, Nineteenth Edition (2010), "Case Names and Institutional Authors in Citations", Table T6, p. 430-431.
See also:
prop
---