underpinning
un·der·pin·ning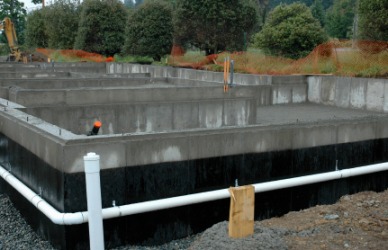 The underpinning of a house.
noun
The definition of an underpinning is a system of support.

An example of underpinning is the foundation of a house.
---
underpinning
a supporting structure or foundation, esp. one placed beneath a wall
[often pl.] anything that serves as a support or basis: the flimsy underpinnings of their argument
[pl.]

Informal

the legs
---
underpinning
noun
Material or masonry used to support a structure, such as a wall.
often underpinnings A support or foundation: "It was the towns, not the cities, that provided the underpinnings for the great American experiment" ( Frank Conroy )
underpinnings Informal The human legs.
---
underpinning

Noun
(plural underpinnings)
A support or foundation, especially as a structure of masonry that supports a wall or a metaphorical basis for something.

This house's underpinning is not up to standard.
I would like to know more about the underpinning of this political theory.

Legs, more generally.
---