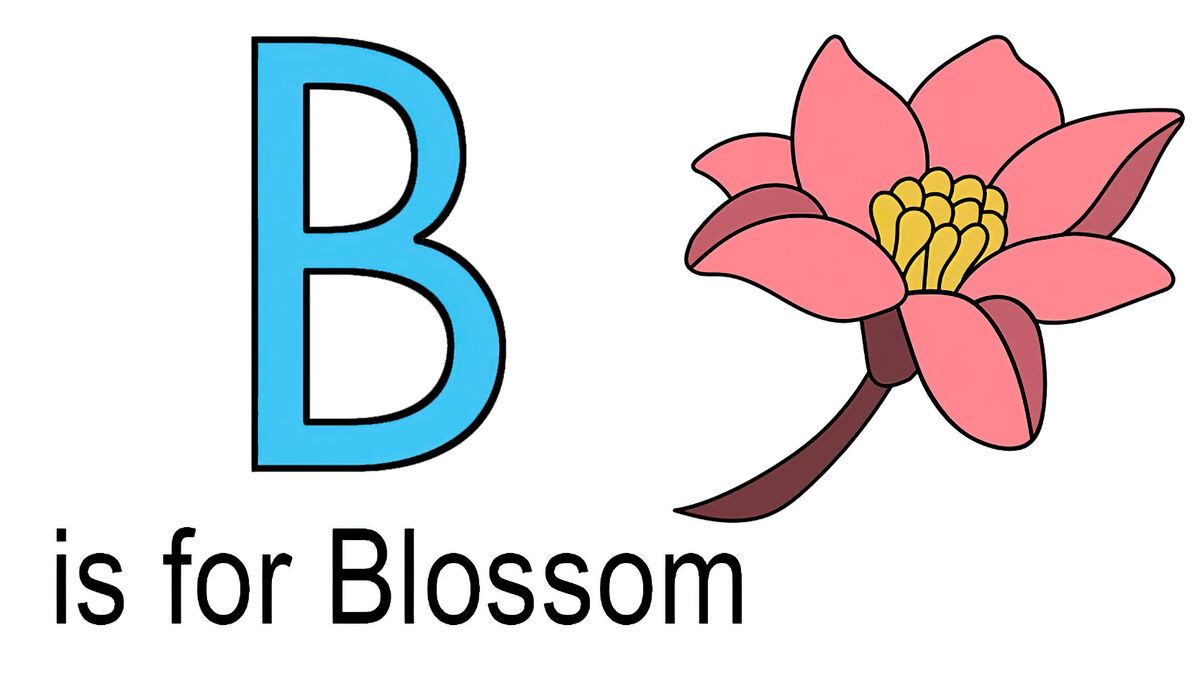 Valuable vocabulary lessons come in many shapes and sizes. Learning how to say or spell a word at an early age will set your students up for major success. One approach is to break the alphabet apart and study new words, letter by letter. Set a new letter for each day and embark on a new adventure! Below, you'll find some great B words for kids, as well as some activities that'll ensure learning remains fun.
Preschool Words That Start With B
Making the B sound can be a lot of fun for little learners. Check out these B words that will help preschoolers learn to recognize the B sound and kickstart their affinity for language learning.

| | |
| --- | --- |
| bad | ball |
| barn | bear |
| bed | beep |
| bib | big |
| bird | bite |
| blue | box |
| boy | bus |
Printable Worksheet: Practice Printing the Letter B
Learning simple words that start with B provides a perfect opportunity for young learners to practice writing the letter. Use this basic "trace the letter" worksheet to help kids master writing this letter.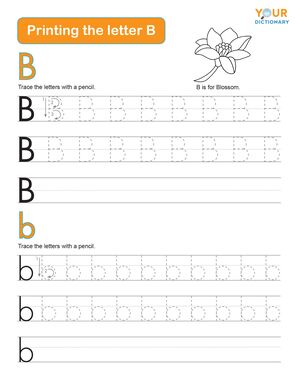 Kindergarten Words That Begin With B
Kindergarteners can benefit from learning several simple words that start with B. Learning how to say, pronounce and even spell these words will help kindergarten students build a strong vocabulary.
Printable Activity: Matching Pictures to B Words
Download the printable below for a free worksheet featuring words from the kindergarten list. This fun activity involves matching pictures to words that go along with them. It features six simple B words. Kids are tasked with drawing a line to connect each picture to the correct word. For even more fun, students can color the line drawings on the worksheet.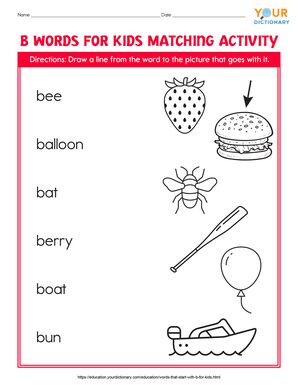 Early Elementary: Simple Words That Start With B
Early elementary school (grades 1-3) is the time to learn even more B words, from basic terms through new skills and sounds. Try out some compound words and letter blends, such as the "gh" in bought. This is also a great time to emphasize the "i before e" rule with words like believe and brief.

Early Elementary Activity With Props
For words to stick in childrens' minds, they have to be able to associate these words with the real world. It's far more difficult to just memorize a list of words and definitions. As you practice each of the vocabulary words above, try bringing some props into the classroom.
Hold up a banana or blow some bubbles.
Ask students to identify the appropriate vocabulary word.
Call on someone to walk up to the board and write out the word.
Activity Idea: DIY Flashcards
Upper Elementary: More B Words for Kids
Upper elementary school (grades 4 and 5) is the time to help students build their vocabulary and reinforce the spelling skills they've learned thus far. It's also a great time to introduce some new concepts, such as rules for words with double letters.
A fun way to encourage students to remember important vocabulary words is to ask them to draw one of the words.
Give them some "free draw" time to select one of their vocabulary words on a sheet of paper. For this list, baggage or banquet might be a nice option.
All that's required is paper, crayons, and a pencil. Perhaps they'll need a ruler, depending on the vocabulary word.
Then, you can staple their artwork to a piece of construction paper.
A good old-fashioned spelling bee might be a fun way to challenge your students and work up a bit of their competitive spirit.
Line up your students.
Ask each of them to spell a new word.
When they get one wrong, they can return to their seat.
Encourage them to stay engaged in the bee, or allow them to read a book while the competition continues.
Keep going around and around until there's a winner.
With the right coaching, we can set little learners up for success from the days of preschool. In fact, the earlier students get excited over small victories like spelling the word bee, the more they'll seek out those opportunities. If you'd like to bolster this B-word adventure, take a look at these free spelling printables. They also offer several tips to help you teach spelling consistently and effectively.
Use WordFinder's thorough list of words that start with the letter B to come up with your own vocabulary list full of B words. Just fill up the advanced search fields to choose the letter the words start with or your desired word length. Now that you've covered words that start with B, it's time to move on to the next letter in the alphabet. Get ready to explore words that start with C for kids.