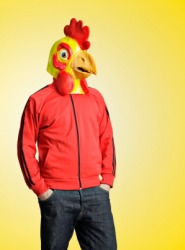 This mans disguise is a chicken mask.
noun
The definition of disguise is something that hides the truth.

An example of disguise is a bad thing that really meant something good.

Disguise is defined as a costume that hides your identity.

An example of disguise is a mask.
verb
Disguise means to change someone or something to hide its identity or true feelings.

An example of disguise is to dress someone in a wig and dark glasses.
---
disguise
transitive verb
-·guised′

,

-·guis′ing
to make appear, sound, etc. different from usual so as to be unrecognizable: to disguise one's voice
to hide or obscure the existence or real nature of: to disguise an emotion

Obs.

to alter or disfigure
Origin of disguise
Middle English
disgisen
from Old French
desguiser
, to change costume: see dis- and guise
any clothes, equipment, manner, etc. used for disguising
the state of being disguised
the act or practice of disguising
Also
Now Rare
dis·guise′ment
---
disguise
transitive verb
dis·guised, dis·guis·ing, dis·guis·es
a. To modify the manner or appearance of (a person, for example) in order to prevent recognition: disguised himself as a guard and escaped.

b. To make indistinct or difficult to perceive: disguised the bad taste of the medicine with lemon syrup.

To conceal or obscure by dissemblance or false show; misrepresent: disguise one's true intentions.
noun
Clothes or accessories worn to conceal one's true identity.

a. Appearance that misrepresents the true character of something: a blessing in disguise.

b. A pretense or misrepresentation: His repeated references to his dangerous hobbies were only a disguise to cover up his insecurity.
Origin of disguise
Middle English
disguisen
from
Old French
desguiser
des-
dis-
guise
manner
; see
guise
.
Related Forms:
---
disguise

Noun
(plural disguises)
Attire (e.g. clothing, makeup) used to hide one's identity or assume another.

That cape and mask complete his disguise.

(figuratively) The appearance of something on the outside which masks what's beneath.
The act of disguising, notably as a ploy

Any disguise may expose soldiers to be deemed enemy spies.
Verb
(third-person singular simple present disguises, present participle disguising, simple past and past participle disguised)
To change the appearance of (a person or thing) so as to hide, or to assume an identity.

Spies often disguise themselves.

To avoid giving away or revealing (something secret); to hide by a false appearance.

He disguised his true intentions.

(archaic) To affect or change by liquor; to intoxicate.
Origin
Middle English disgisen, disguisen, borrowed from Old French desguiser (modern déguiser), itself derived from des- ("dis-")" (from Latin dis-) + guise ("guise") (from a Germanic source).
---