sham

sham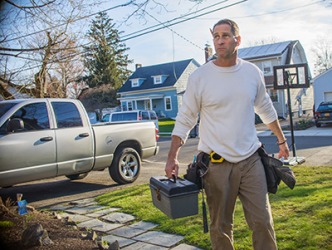 The handyman's offer turned out to be a sham because he insisted on a large down payment then skipped town without doing the work.
adjective
Sham means not real or fake.

An example of sham used as an adjective is the phrase "sham intelligence" which means smarts that are not really there.
noun
The definition of a sham is something or someone that is false or has a disguise.

An example of a sham is a fake diamond being advertised as a real one.
verb
To sham is defined as to pretend to be something you are not or to disguise something.

An example of to sham is to advertise fake gold as real.
---
sham
Obs.

a trick or fraud

an imitation that is meant to deceive; counterfeit
a hypocritical action, deceptive appearance, etc.

a person who is not what he or she pretends to be; fraud; impostor
pillow sham
Origin of sham
probably from northern Eng dialect, dialectal variant, variety of shame
not genuine or real; false, counterfeit, pretended, etc.
transitive verb
shammed

,

sham′ming
to be or make an imitation or false show of; counterfeit
to pretend to be what one is not
---
sham
noun
a. Something false or empty that is purported to be genuine: "Because she had been so readily unfaithful, her marriage was a sham" ( Alice Munro )

b. Deceitfulness or pretense: "She saw herself as a person surrounded by, living by, sham" ( Alice Munro )

c. One who claims to be what he or she is not; an impostor or fraud: "He a man! Hell! He was a hollow sham!" ( Joseph Conrad )

A decorative cover for a pillow.
adjective
Not genuine; fake: sham diamonds; sham modesty.
verb
shammed, sham·ming, shams
verb
transitive
To put on the false appearance of; feign: "shamming insanity to get his tormentors to leave him alone" ( John Wain )
verb
intransitive
To assume a false appearance or character; dissemble.
Origin of sham
Perhaps dialectal variant of
shame
Related Forms:
---
sham

Adjective
(comparative more sham, superlative most sham)
Intended to deceive; false.

It was only a sham wedding: they didn't care much for one another but wanted their parents to stop hassling them.
Noun
(plural shams)
Trickery, hoaxing.

A con-man must be skilled in the arts of sham and deceit.

A false front, or removable ornamental covering.
A decorative cover for a pillow.
Verb
(third-person singular simple present shams, present participle shamming, simple past and past participle shammed)
To deceive, cheat, lie.
To obtrude by fraud or imposition.
To assume the manner and character of; to imitate; to ape; to feign.
Origin
Probably a dialectal form of shame.
---
sham - Investment & Finance Definition
A transaction that is designed to trick or defraud investors.
A means to avoid taxes fraudulently.
---
sham - Legal Definition
n
A counterfeit; something that is not what it seems or appears to be; a fake; a person pretending to be something or someone other than who she really is. 
adj. Deceitful or dishonest. 
---