parody
par·o·dy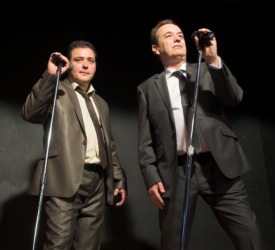 Two men performing a comedy act on stage.
noun
The definition of a parody is an imitation of something, particularly literature or a film, that is meant to make fun of it.

An example of parody is the film Scary Movie.
---
parody
pl.
-·dies
a literary or musical work imitating the characteristic style of some other work or of a writer or composer in a satirical or humorous way, usually by applying it to an inappropriate subject
the art of writing such works

a poor or weak imitation
Origin of parody
French
parodie
; from Classical Latin
parodia
; from Classical Greek
par?idia,
burlesque song ; from
para-,
beside (see para-) +
?id?,
song (see ode)
-·died

,

-·dy·ing
to make a parody of
---
parody
noun
pl.
par·o·dies
a. A literary or artistic work that uses imitation, as of the characteristic style of an author or a work, for comic effect or ridicule.

b. A genre, as in literature, comprising such works.

Something so bad as to be equivalent to intentional mockery; a travesty: The trial was a parody of justice.
Music The practice of reworking an already established composition, especially the incorporation into the Mass of material borrowed from other works, such as motets or madrigals.
transitive verb
par·o·died
,
par·o·dy·ing
,
par·o·dies
To make a parody of. See Synonyms at
imitate
.
Origin of parody
Latin
par&omacron;dia
, from Greek
par&omacron;idia
:
para-
,
subsidiary to
; see
para–
1
+
aoid&emacron;, &omacron;id&emacron;
,
song
; see
wed-
2
in Indo-European roots.
Related Forms:
pa·rod′ic , pa·rod′i·cal

adjective
---
parody
Verb
(third-person singular simple present parodies, present participle parodying, simple past and past participle parodied)
To make a parody of something.

The comedy movie parodied the entire Western genre.
Origin
From Latin parodia, from Ancient Greek παρῳδία (parōdia, "parody"), from παρά (para, "besides") + ᾠδή (ōidÄ", "song").
---