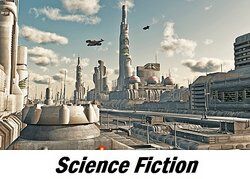 A genre is a category of art, music, or literature. The following are some popular examples of genres, along with some related sub-genres. Not only will you find literary genres, but some of the most popular music genres as well.
Action and Adventure Genre
Action and adventure are sometimes considered two distinct genres, however, the two go hand-in-hand: they involve exciting sequences and obstacles that must be overcome before reaching a goal. There are many different categories of action-adventure stories.
An epic is a tale, often told in verse, of a heroic figure on a quest. You see epics in literature, movies, and even music. A few epic examples you'll see in literature, movies, and music include:
The Hobbit by J.R.R. Tolkien
The Last Legion (2007)
Skylon by Gruff Rhys
The military genre usually involves stories of battle and espionage from the war front. Examples of this genre include titles like:
We Were Soldiers Once… and Young by Lt. Gen. Harold G. Moore
Black Hawk Down (2001)
Soldiers and Jesus by James Otto
This genre, in the James Bond vein, recounts the pulse-pounding expeditions of spies in various agencies throughout the world. Examples include:
The Secret Agent by Joseph Conrad
Red Sparrow (2018)
Dangerous by Big Data, Joywave
This genre covers the Wild West, typically including gun duels, train robberies, heists, and showdowns, known collectively as Westerns. A few fun examples you might know include:
True Grit by Charles Portis
The Magnificent Seven (2016)
Ghost Riders in the Sky by Johnny Cash
Comedies are humorous stories intended to make the reader or viewer laugh. Whether it's a literary genre or found in the most popular music genre, comedy is just funny.
Although these stories are intended to be funny, they also touch darker areas of storytelling, such as death and fear. Black comedy makes it way into books, movies and songs in these examples.
Catch-22 by Joseph Heller
In Bruges (2008)
Let Me Watch You Make Love by Black
A parody intends to mimic another genre to humorous effect. Parodies can be intended to mock and criticize as well as to pay homage like:
Pride and Prejudice and Zombies by Seth Grahame-Smith
Scary Movie (2000)
Amish Paradise by Weird Al Yankovic
Romantic comedies, or rom-coms, mix love stories together with comedic events. Examples are a plenty for this sub-genre.
The Hating Game by Sally Thorne
Isn't It Romantic (2019)
Beautiful Love by The Afters
This type of comedy features physical humor such as pratfalls, silly and exaggerated body language, and unlikely scenarios.
The Gates by John Connolly
There's Something About Mary (1998)
Yakety Axe by Chet Atkins
Stories about magic spells, mythical creatures, and fabled kingdoms are known as fantasies. This genre sometimes includes witchcraft and wizardry, dragons and unicorns, and an emphasis on legend. Check out a few fantasy sub-genres and examples.
This type of fantasy story demonstrates a general truth or a parable. Examples include:
Aesop's Fables by Aesop
The Tortoise and the Hare (1935)
Tell Me a Fable by Robert Miles
These are often age-old stories that include magic and folklore in addition to traditional fantasy characters like elves and goblins. Fairy tales are a popular movie genre but can be found in music and literature as well.
Grimms' Fairy Tales by Jacob and Wilhelm Grimm
The Beauty and the Beast (2017)
Today was a Fairytale by Taylor Swift
While legends may include bits of historical fact, they are usually made to seem larger than life, as in the Legend of King Arthur.
The Mists of Avalon by Marion Zimmer Bradley
King Arthur: Legend of the Sword (2017)
Achilles Last Stand by Led Zeppelin
Scientific Fantasy Examples
A fantasy story that may include elements of scientific fact is known as science-fantasy. You might seem scientific fantasy examples like:
A Wrinkle in Time by Madeleine L'Engle
Avatar (2009)
Oblivion by Mastodon
Horror stories are intended, as the name suggests, to horrify and scare an audience. The genre of horror has been shocking audiences for many centuries and includes many sub-genres.
These are stories where the dead return to life and haunt the living, such as Dickens' A Christmas Carol. Sometimes the ghosts are trying to teach the living a lesson. Other examples include:
A Woman in Black by Susan Hill
The Others (2001)
Thriller by Michael Jackson
Monster stories use creatures that frighten or threaten human beings as the antagonists. Check out examples like:
Frankenstein by Mary Shelley
Dracula Untold (2014)
Monster Mash by Bobby Pickett
Popular in cinema, slasher stories tell of deranged killers who are out to punish regular people. Slasher music, literary, and movie genre examples might include:
There's Someone Inside Your House by Stephanie Perkins
Texas Chainsaw (2013)
Halloween (Main Theme) by John Carpenter
These stories paint a future where humankind is up against a threat like zombies or vampires and must survive against the odds.
World War Z by Max Brooks
Train to Busan (2016)
The Salvation Gates by Marco Beltrami, Marcus Trumpp, Brandon Roberts
Mystery always leaves you guessing. Not only are you guessing who did it, but what will happen next. Explore several different subgenres of mystery along with music, movie, and literary examples of each.
This genre will really get your heart racing. You might have seen thrillers like:
The Silent Patient by Alex Michaelides
Split (2016)
Groucho Won't Die by Candie Hank
You've entered the world of whodunit. This thriller sub-genre uses ace detectives and medical specialist to find out the who, what, and why like:
The Dancing Girls by M.M. Chouinard
Gone Girl (2014)
Crossborder by Patric Catani
This genre leaves you on the edge of your seat waiting for that next moment of action. Here you'll find examples like:
The Girl on the Train by Paua Hawkins
Shutter Island (2010)
We Knew Her at Once by Twiceyoung
When you are ready for a good cry or just want to curl up to smile at a good romance, then it is time to look for drama. You might find a heartwarming family story or a spicy romance set 100 years ago.
Love lost, love at first sight, and even forbidden love will be found here. Find a few titles that you might enjoy.
Fifty Shades of Grey by E.L. James
A Star is Born (2018)
I Will Always Love You by Whitney Houston
Historical/Period Examples
Is your jam more history? You'll find all different types of historical pieces in the genre. Explore from live to life through these titles:
Outlander by Diana Gabaldon
Tulip Fever (2017)
Romeo and Juliet by Dire Straits
Endless tears for days. Tragedies can be epic or everyday, but they always hit you right in the heart strings. Dive into these tragedy examples.
Romeo and Juliet by William Shakespeare
Titanic (1997)
Last Kiss by Pearl Jam
Any story that uses scientific concepts to explain the world or the universe is known as science fiction, sci-fi, or syfy. This genre is very similar in construction to fantasy, except that science is a central theme.
Apocalyptic/Dystopian Sci-fi
Any science fiction that has to do with the end of the world or the destruction of mankind is known as "apocalyptic" or "dystopian" sci-fi. In this sub-genre, you might find:
Divergent by Veronica Roth
The Hunger Games (2012)
Uranium Echoes by Woo York
Soft sci-fi typically deals less with the complications of applied science and more with the effects of science. Here's a few titles that you'll find here.
The Giver by Lois Lowry
Planet of the Apes (2001)
Elysion by Antti Martikainen
This type of science fiction deals with the long-term effects of a life lived in space, such as Star Trek or Star Wars. Other examples might include:
Ender's Game by Orson Scott
Jupiter Ascending (2015)
Battlestar Galactica Theme by Stu Phillips
There are many examples of genres and subgenres. The movies, books, literature, and entertainment you enjoy fall into one of these genres. Now that you have a solid understanding of genres, dive into theme examples in literature.