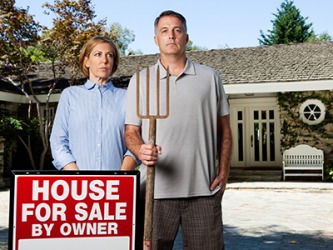 This image of a couple standing in front of a house is an example of satire by mimicking the famous American Gothic painting.
noun
The definition of a satire is the use of irony, sarcasm and humor to criticize or show the ignorance of people.

An example of satire is The Daily Show with Jon Stewart.
---
satire
a literary work in which vices, follies, abuses, etc. are held up to ridicule and contempt
such literary works collectively

the use of ridicule, sarcasm, irony, etc. to expose, attack, or deride vices, follies, etc.
Origin of satire
French from Classical Latin
satira
or
satura
, satire, poetic medley from (
lanx) satura
, (dish) of various fruits, probably from Etr, of Thracian origin, originally
---
satire
noun
a. A literary work in which human foolishness or vice is attacked through irony, derision, or wit.

b. The branch of literature constituting such works.

Irony, sarcasm, or caustic wit used to attack or expose human foolishness or vice.
Origin of satire
Latin
satira
probably alteration
(
influenced by
Greek
satur
satyr
) (
and
saturos
burlesque of a mythical episode
)
of
(lanx) satura
fruit (plate) mixture
from feminine of
satur
sated, well-fitted
; see
sā-
in Indo-European roots.
---
satire

Noun
(countable and uncountable, plural satires)
(uncountable) A literary device of writing or art which principally ridicules its subject often as an intended means of provoking or preventing change. Humour is often used to aid this.
(countable) A satirical work.
Origin
Implied in satiric (attested in 1387), from Latin satira, from earlier satura, from lanx satura ("full dish"), from feminine of satur. Altered in Latin by influence of Ancient Greek σάτυρος (saturos, "satyr"), on the mistaken notion that the form is related to the Greek σατυρικόν δράμα (saturikon drama, "satyr drama").
---