satirical

sa·tir·i·cal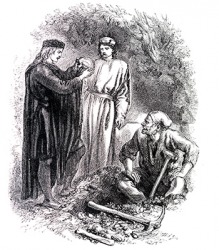 Hamlet by Shakespeare is an example of a satirical story.
adjective
The definition of satirical is something that uses or contains satire, which is humor or irony that is sarcastic or ridiculing.

An example of a satirical play is a play that uses irony and dark humor.
---
satirical
of, like, or containing satire
indulging in, or fond of indulging in, satire
---
satirical
or sa·tir·ic
adjective
Of, relating to, or characterized by satire.
Given to or fond of making satirical remarks.
Related Forms:
---
satirical

Adjective
(comparative more satirical, superlative most satirical)
Of, pertaining to, or connected with satire.

Spitting Image was a famous satirical television program.
---