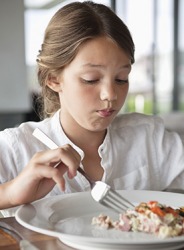 Eliza made a sarcastic comment about the "delicious" casserole that her mother prepared for dinner.
adjective
The definition of sarcastic is a description of a sneering or ironic remark or someone who makes such remarks.

An example of sarcastic is a person saying that a song is their favorite, when in reality they dislike it immensely and have worked vigorously to get it removed from the program.
---
sarcastic
of, having the nature of, or characterized by sarcasm; sneering, caustic, cutting, etc.
using, or fond of using, sarcasm
---
sarcastic
adjective
Expressing or marked by sarcasm.
Given to using sarcasm: a sarcastic friend.
Origin of sarcastic
sarc(asm)
-astic
(as in
enthusiastic
)
Related Forms:
---
sarcastic

Adjective
(comparative more sarcastic, superlative most sarcastic)
Containing sarcasm.
(of a person) Having the personality trait of expressing sarcasm.
---