sardonic

sar·don·ic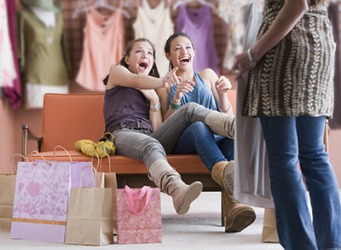 Theresa felt humiliated when Rachel and Jessica reacted with sardonic laughter as soon as they saw the dress she chose for the dance.
adjective
The definition of sardonic is acting in a mocking or sarcastic way to put someone down.

An example of sardonic is a comedian's sneering jokes about a specific group of people that he wants to criticize.
---
sardonic
disdainfully or humorously sneering or sarcastic: a sardonic smile
Origin of sardonic
French
sardonique
from Classical Latin
sardonius
from Classical Greek
sardonios
, altered after
Sard?
, Sardinia
---
sardonic
adjective
Scornfully or cynically mocking: a sardonic sense of humor.
Given to making sardonic remarks: "He was proud, sardonic, harsh to inferiority of every description" ( Charlotte Brontë )
Origin of sardonic
French
sardonique
from
Greek
sardonios
alteration of
sardanios
perhaps akin to
sesērenai
to show the teeth, grin mockingly
Related Forms:
---
sardonic

Adjective
(comparative more sardonic, superlative most sardonic)
Scornfully mocking or cynical.

He distances himself from people with his nasty, sardonic laughter.
Origin
French sardonique, from Latin sardonius, from Ancient Greek σαρδόνιος (sardonios), alternative form of σαρδάνιος (sardanios, "bitter or scornful laughter"), which is often cited as deriving from the Sardinian plant (Ranunculus sardous), known as either σαρδάνη (sardanÄ") or σαρδόνιον (sardonion). When eaten, it would cause the eater's face to contort in a look resembling scorn (generally followed by death). It might also be related to σαίρω (sairō, "I grin").
---