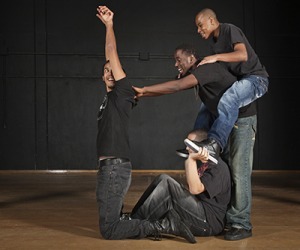 The group of students performed a funny and entertaining skit for the high school talent show.
noun
The definition of a skit is a short play or piece of writing that is usually funny.

An example of a skit is a brief comedy show put on by second graders.
---
skit
Now Rare

a taunt; gibe
a short piece of satirical or humorous writing
a brief, comic performance piece, typically of an informal nature, as for two or more actors
Origin of skit
from dialect, dialectal , verb , to be skittish, taunt, probably from Scandinavian variant, variety of Old Norse
skj?ta
, shoot
---
skit
noun
A short, usually comic dramatic performance or work; a theatrical sketch.
A short humorous or satirical piece of writing.
Origin of skit
Origin unknown
---
skit

Verb
(third-person singular simple present skits, present participle skitting, simple past and past participle skitted)
(Ireland, Liverpudlian) to make fun of. (Used in Merseyside)
---