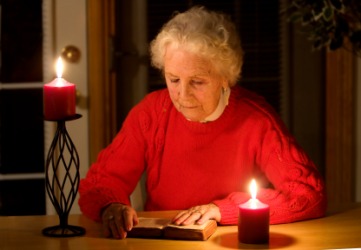 A woman reads by candlelight during a blackout.
noun
The definition of a blackout is a loss of all lights, memory or details.

An example of a blackout is an electrical outage in an area.
An example of a blackout is a loss of memory after an accident.
---
blackout
the extinguishing of all stage lights to end a play or scene
a comic stage skit ending with a quick blackout

an elimination or concealing of all lights that might be visible to an enemy, as during an air raid, at night
a temporary loss of electricity in an area because of a failure in its generation or transmission
a temporary loss of consciousness or vision
a loss of memory of an event or fact
suppression or concealment, as of news by censorship
the prohibition of the televising of a sports event in the locality where the event takes place, so that attendance will not be reduced
---
blackout
noun
A cutoff of electric power, especially as a result of a shortage, a mechanical failure, or overuse by consumers.
The concealment or extinguishment of lights that might be visible to enemy aircraft during an air raid.

a. The sudden extinguishment of all stage lights in a theater to indicate the passage of time or to mark the end of an act or scene.

b. A short, comic vaudeville skit that ends with lights off.

A temporary loss of memory or consciousness.

a. A suppression, as of news, by censorship.

b. A suppression of the broadcast of an event or program, as to support ticket sales at a local venue.

A suspension of a discounted price or free offer, as for an airline ticket or a lift ticket at a ski resort.
---
blackout

Noun
(plural blackouts)
a temporary loss of consciousness
a temporary loss of memory
a large-scale power failure, and resulting loss of electricity to consumers
the mandatory blocking of all light emanating from buildings as imposed during World War II
---
blackout - Computer Definition
---