sally

sal·ly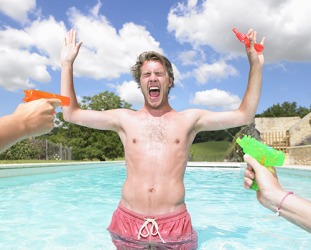 The girls launched a surprise sally on Trey after he soaked them first with a water gun while they were relaxing by the pool.
noun
Sally is a feminine name.

An example of a person named Sally is Sally Field.
verb
Sally is defined as to rush or come out suddenly or to go on a trip.

An example of sally is to jump out from behind a door.
---
sally
noun
pl.
-·lies
a sudden rushing forth, as of troops to attack besieging forces
any sudden start into activity
a quick witticism; bright retort; quip
an excursion or unusual side trip; jaunt
Origin of sally
Middle French
saillie
from
saillir
, to come forth suddenly, rush out, leap from Classical Latin
salire
, to leap, spring: see salient
intransitive verb
-·lied

,

-·ly·ing
to make a sally
to rush out or come out suddenly

to come or go outdoors
to set out on a trip
Sally
---
sally
intransitive verb
sal·lied, sal·ly·ing, sal·lies
To rush out or leap forth suddenly: a bird that sallies out from a branch to catch flying insects.
To issue suddenly from a defensive or besieged position to attack an enemy.
To set out on a trip or excursion: sallied forth to see the world.
noun
pl.
sal·lies
A sudden rush forward or leap.
An assault from a defensive position; a sortie.
A sudden effort toward action or expression: "

[She]

kept up a sally of brilliant but doomed attempts at conversation" ( Donna Tartt )
A sudden quick witticism; a quip.
A venturing forth; a jaunt.
Origin of sally
From
French
saillie
a sally
from
Old French
from feminine past participle of
salir
to rush forward
from
Latin
salīre
to leap
; see
sel-
in Indo-European roots.
---
sally

Noun
(plural sallies)
A willow
Any tree that looks like a willow
An object made from the above trees' wood
Origin
From Middle English saly, from Old English saliÄ¡, sealh ("willow"). More at sallow.
Verb
(third-person singular simple present sallies, present participle sallying, simple past and past participle sallied)
(intransitive) To make a sudden attack on an enemy from a defended position.

The troops sallied in desperation.

(intransitive) To set out on an excursion; venture; depart (often followed by "forth.")

As she sallied forth from her boudoir, you would never have guessed how quickly she could strip for action. -William Manchester

(intransitive) To venture off the beaten path.
Origin
From French saillie, from sailli, the past participle of the verb saillir 'to leap forth', itself from Latin salire 'to leap'
Noun
(plural sallies)
(New Zealand, slang) A member of the Salvation Army.
Proper noun
A diminutive of the female given name Sarah, also used as a formal given name.
(UK) A nickname for the Salvation Army
---