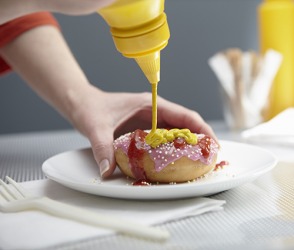 Eileen has a few quirks, but the strangest one is that she puts mustard on everything including doughnuts.
noun
The definition of a quirk is an odd occurrence or a unique and peculiar behavior or characteristic.

When a strange twist of fate leads you to bump into your old high school sweetheart and you end up getting married, this is an example of a quirk of fate.
When you have to do something sort of odd, like spin around twice before sitting in your chair, this is an example of a behavioral quirk.
---
quirk
a sudden twist, turn, or stroke: a quirk of fortune
a flourish in writing

an evasion, subterfuge, or quibble
a peculiarity, peculiar trait, or mannerism

Now Rare

a clever turn of speech; sally; quip

Archit.

a groove running lengthwise in a molding
Origin of quirk
from uncertain or unknown; perhaps
Archit.
to form with quirks
---
quirk
noun
A peculiarity of behavior; an idiosyncrasy: "Every man had his own quirks and twists" ( Harriet Beecher Stowe )
An unpredictable or unaccountable act or event; a vagary: a quirk of fate.
A sudden sharp turn or twist: a quirk of the head.
Architecture A lengthwise groove on a molding between the convex upper part and the soffit.
Archaic An equivocation; a quibble.
Origin of quirk
Origin unknown
Related Forms:
---
quirk

Noun
(plural quirks)
an idiosyncrasy; a slight glitch, mannerism; something unusual about the manner or style of something or someone

The car steers cleanly, but the gearshift has a few quirks.

(architecture) An acute angle dividing a molding; a groove that runs lengthwise between the upper part of a moulding and a soffit
(archaic) A quibble, evasion, or subterfuge.
Verb
(third-person singular simple present quirks, present participle quirking, simple past and past participle quirked)
(intransitive) To move with a wry jerk.

He quirked an eyebrow.
The corners of her mouth quirked.
Origin
First attested in the 1540s. Of uncertain origin.
---