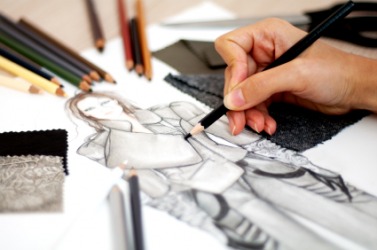 A fashion designer works on a sketch.
noun
The definition of a sketch is a rough design without much detail.

An example of sketch is what a clothing designer creates before starting on the actual garment.
verb
Sketch is defined as to create rough, undetailed drawings.

An example of sketch is for a designer to create a simple drawing of a garment he plans to sew.
---
sketch
a simple, rough drawing or design, done rapidly and without much detail
a brief plan or description of major parts or points; outline
a short, light, informal story, description, play, skit, or piece of music
Origin of sketch
earlier
schitz
from Dutch
schets
from Italian
schizzo
from Classical Latin
schedium
, extempore poem from Classical Greek
schedios
, extempore, sudden from
schein
, to hold: see scheme
to draw quickly or in outline
to give a brief description of; outline: usually with out
to make a sketch or sketches
---
sketch
noun
A hasty or undetailed drawing or painting often made as a preliminary study.
A brief general account or presentation; an outline.

a. A brief, light, or informal literary composition, such as an essay or a short story.

b. Music A brief composition, especially for the piano.

c. A short, often satirical scene or play in a revue or variety show; a skit.

Informal An amusing person.
verb
sketched, sketch·ing, sketch·es
verb
transitive
To make a sketch of; outline.
verb
intransitive
To make a sketch.
Origin of sketch
Dutch
schets
from
Italian
schizzo
from
schizzare
to splash
of imitative origin
Related Forms:
---