paint

paint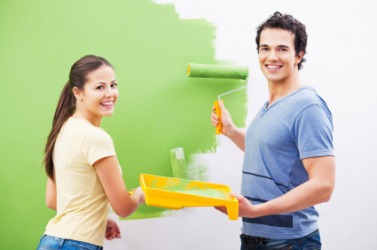 A couple paint their walls green.
noun
Paint means a mixture of color used for creating art or changing the color of a surface.

An example of paint is what Vincent Van Gogh used to create Starry Nights.
An example of paint is what a person would use to change the white walls in their house to yellow.
verb
Paint is defined as to cover with paint, to create a picture with paint, or to create an imaginary, colorful picture.

An example of paint is to change the color of the wall from white to beige.
An example of paint is using water colors to create a picture of a tree.
An example of paint is reciting the poem of Jabberwocky.
---
paint
to make (a picture, design, etc.) in colors applied to a surface
to depict or portray with paints: to paint a landscape

to describe colorfully or vividly; depict in words
to cover or decorate with paint; color: to paint a wall
to apply cosmetics to; adorn; beautify

to apply (a medicine, etc.) with a brush or swab
to treat (a wound, etc.) in this way
Origin of paint
Middle English
peinten
from Old French
peint,
past participle of
peindre
from Classical Latin
pingere,
to paint, embroider from Indo-European base an unverified form
peig-,
to mark by scratching or coloring from source Classical Greek
pikros,
sharp, Old English
fah,
stained
to practice the art of painting pictures

Archaic

to use cosmetics
a mixture of a pigment with oil, water, etc., in liquid or paste form, applied as with a brush, roller, or spray gun, and used for protective covering or coloring of a surface or for making pictures on canvas, paper, etc.
dry pigment for such use

a dried coat of paint

coloring matter, as lipstick, blush, or eye shadow, used as a cosmetic
greasepaint

Chiefly West

pinto (noun)

Origin of paint

so called from the practice of painting the area in a contrasting color

Basketball, Informal

free throw lane: with the
paint out
to cover up with or as with a coat of paint
paint the town (red)
Slang
to go on a boisterous spree; carouse
---
paint
noun
a. A liquid mixture, usually of a solid pigment in a liquid vehicle, used as a decorative or protective coating.

b. The thin dry film formed by such a mixture when applied to a surface.

c. The solid pigment before it is mixed with a vehicle.

A cosmetic, such as rouge, that is used to give color to the face; makeup.
Basketball The free throw lane.
A Paint horse.
Slang The face cards in a deck of cards: I haven't seen any paint for the last ten hands.
verb
paint·ed, paint·ing, paints
verb
transitive
To make (a picture) with paints.

a. To represent in a picture with paints.

b. To depict vividly in words.

To coat or decorate with paint: paint a house.
To apply cosmetics to.
To apply medicine to; swab: paint a wound.
To shine a laser beam on, especially in order to designate a target for laser-guided munitions.
verb
intransitive
To practice the art of painting pictures.
To cover something with paint.
To apply cosmetics to oneself: "Let her paint an inch thick, to this favor she must come" ( Shakespeare )
To serve as a surface to be coated with paint: These nonporous surfaces paint badly with a brush.
Origin of paint
From
Middle English
painten
to paint
from
Old French
peintier
from
peint
past participle of
peindre
from
Latin
pingere
; see
peig-
in Indo-European roots.
Related Forms:
---
paint

Noun
(countable and uncountable, plural paints)
A substance that is applied as a liquid or paste, and dries into a solid coating that protects or adds color/colour to an object or surface to which it has been applied.
(in the plural) A set of containers or blocks of paint of different colors/colours, used for painting pictures.
(basketball, slang) The free-throw lane, construed with the.

The Nimrods are strong on the outside, but not very good in the paint.

(uncountable, paintball, slang) Paintballs.

I am running low on paint for my marker.

(poker, slang) A face card (king, queen, or jack).
Verb
(third-person singular simple present paints, present participle painting, simple past and past participle painted)
To apply paint to.
To apply in the manner that paint is applied.
To cover (something) with spots of colour, like paint.
To create (an image) with paints.

to paint a portrait or a landscape

(intransitive) To practise the art of painting pictures.

I've been painting since I was a young child.

(computing) To draw an element in a graphical user interface.
(figuratively) To depict or portray.

She sued the author of the biography, claiming it painted her as a duplicitous fraud.

(intransitive) To color one's face by way of beautifying it.
Origin
From Middle English, from Old French paincter, itself from paint, the past participle paindre, from Latin pingō ("to paint") (perfect passive participle pictus).
Noun
(plural Paints)
a Paint Horse
---
paint - Computer Definition
(1) In computer graphics, to "paint" the screen using a tablet stylus or mouse to simulate a paintbrush. See paint program.
(2) To transfer an image as in the phrase "the laser printer paints the image onto a photosensitive drum."
(3) To create a screen form by typing anywhere on screen. To "paint" the screen with text.
---