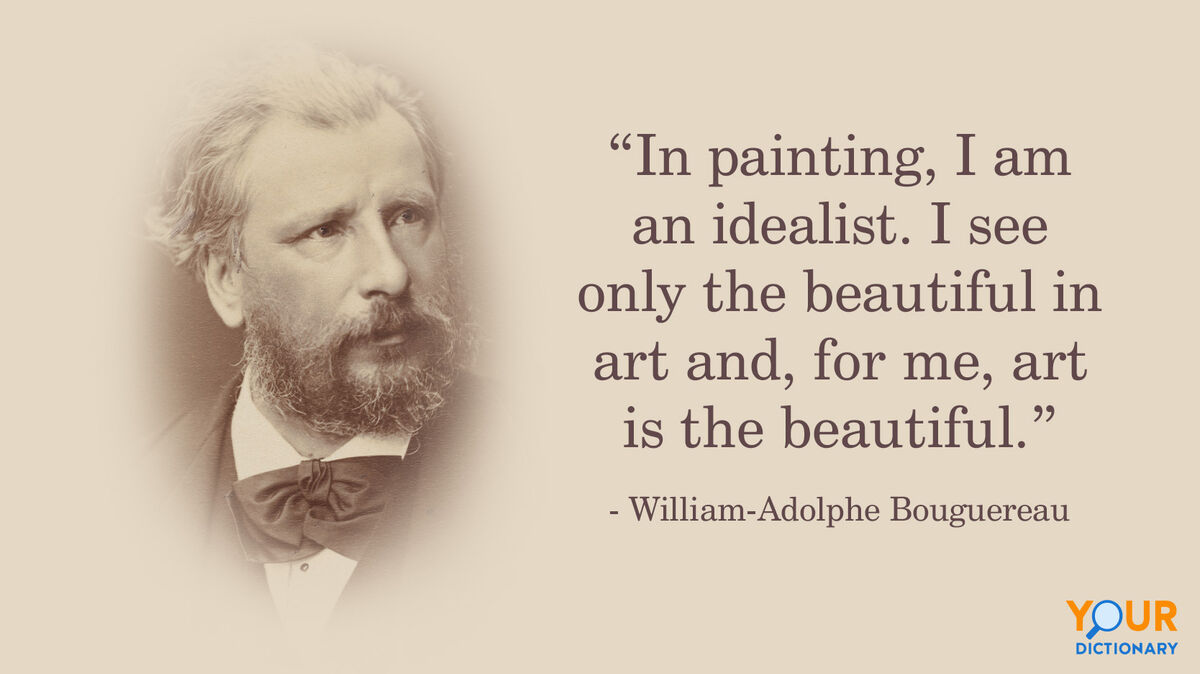 William-Adolphe Bouguereau (1825-1905) was a French painter whose realistic yet ethereal paintings depicted stories from the Bible and Greek mythology, as well as everyday pastoral scenes and figures. During his life, Bouguereau completed 822 known paintings. Though many of them are sadly lost to time, his surviving works and words are immortal.
William-Adolphe Bouguereau Quotes About Art
Bouguereau poured his soul into his painting, and this passion is reflected in his words about the artistic process and spirit.
"One has to seek Beauty and Truth, Sir! As I always say to my pupils, you have to work to the finish. There's only one kind of painting. It is the painting that presents the eye with perfection, the kind of beautiful and impeccable enamel you find in Veronese and Titian." - quoted in French Paintings from the Chrysler Museum

"For me a work of art must be an elevated interpretation of nature. The search for the ideal has been the purpose of my life. In landscape or seascape, I love above all the poetic motif." - 19th Century European Paintings, Drawings and Sculpture

"When will the day come when I can do something worthy of a grown man? How many things must I yet learn before reaching that stage!" - May 13, 1848

"One shouldn't believe in all those so-called innovations. There is only one nature and only one way to see it. Nowadays, they want to succeed too fast, this is how they go about inventing new aesthetics, pointillism, pipisme! All this is just to make noise."

"Each day I go to my studio full of joy; in the evening when obliged to stop because of darkness I can scarcely wait for the next morning to come if I cannot give myself to my dear painting I am miserable."

"Today, I am more confident, my heart is open to hope, I have faith in myself. No, the laborious studies I work at are not useless, the road I am following is a good one, and with the help of God, I shall achieve glory, a just and a pure glory."

"In painting, I am an idealist. I see only the beautiful in art and, for me, art is the beautiful."

"Why reproduce what is ugly in nature? I do not see why it should be necessary. Painting what one sees just as it is, no-or at least, not unless one is immensely gifted. Talent is all-redeeming and can excuse anything."

"Nowadays, painters go much too far, just as writers and realist novelists do. There is no way of telling where they'll draw the line."

"Paint as you see and be accurate in your drawing: the whole secret of your art is there."

"The craft is acquired through study, observation and practice; it can improve by ceaseless work but the instinct for art is innate."

"One is born an artist. The artist is a man endowed with a special nature, with a particular feeling for seeing form and color spontaneously, as a whole, in perfect harmony. If one lacks that feeling, one is not an artist and will never become an artist; and it is a waste of time to entertain the possibility."
Artists communicate their feelings through images, but they also express themselves with their words.