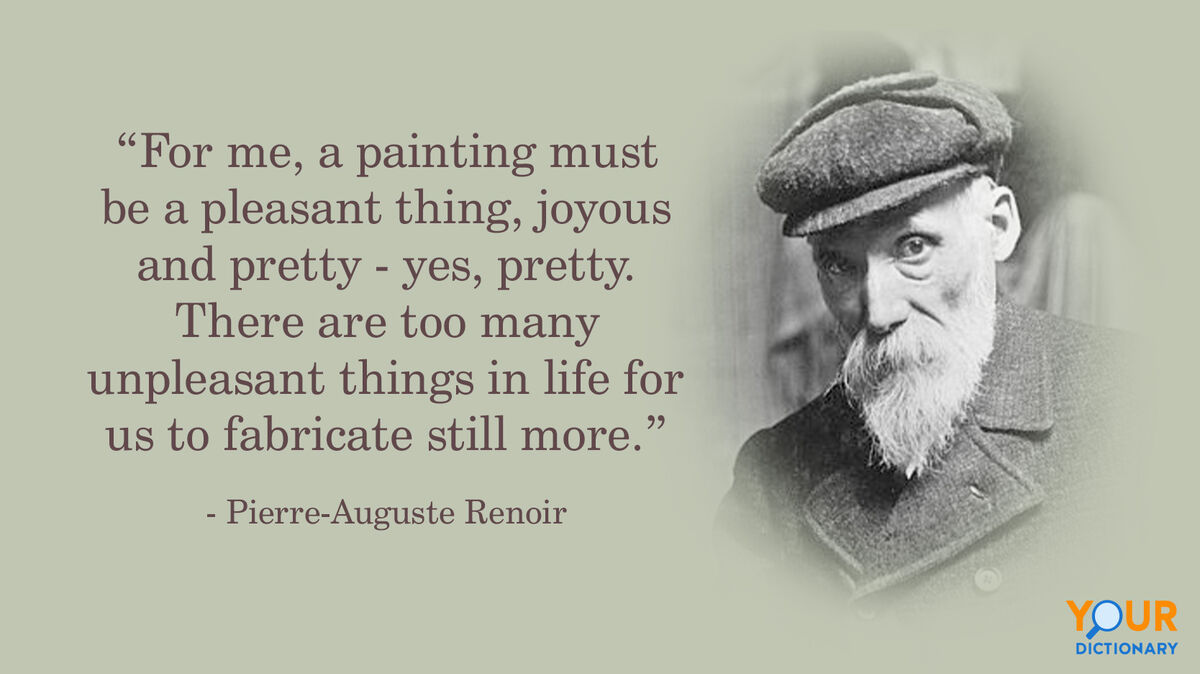 Pierre-Auguste Renoir was an artist who captured the human experience with slice of life snapshot images that ranged from the sensual to the pastoral. Between the vibrant colors and broad strokes, he created images worth a thousand words. Thankfully, though his trade was in images, he uttered many memorable words that encapsulate the artist's condition and how he saw the world in textured hues.

Pierre-Auguste Renoir Quotes About Art and Beauty
Pierre-Auguste Renoir (1841-1919) was one of the greatest artists of the 19th and 20th centuries. He was a leading figure in the Impressionist movement.
Renoir's paintings often depict people in intimate moments, such as reading, playing the piano, dancing, eating, or walking. The characters in these paintings feel like real people who have fully realized lives outside of the frame, often casting knowing looks at the viewer. Over the years, he shed light on his perspectives as an artist and the nature of art itself.

"There is something in painting which cannot be explained, and that something is the essential. You come to Nature with your theories, and she knocks them all flat." - quoted in Masterpieces of Painting from the National Gallery of Art

"The pain passes but the beauty remains." - 6.o Congreso Internacional de Medicina Fisica: 2-6 julio 1974, quoted in Instituto Nacional de Previsión

"You haven't time to think about the composition. In working directly from nature, the painter ends up by simply aiming at an effect, and not composing the picture at all; and he soon becomes monotonous." - quoted in Renoir – His Life and Work

"They've found fault with me enough, in all conscience, for putting violet shadows on bodies." - Renoir – His Life and Work

"I am still going through an experimental stage. I'm not happy, and I keep scrubbing out and scrubbing out again. I hope this mania will pass ... I'm like the children at school; the clean page has to be filled with good writing, and splash – a mess! I'm still making messes and I'm forty years old." - Renoir – His Life and Work

"Out-of-doors there is a greater variety of light than in the studio, where the light is always the same. But that is just the trouble; one is carried away by the light, and besides, one can't see what one is doing." - Renoir – His Life and Work

"It gives my brain a rest, painting flowers. I don't feel the same tension as when I have a model in front of me. When I paint flowers, I put on colours and try out values boldly, without worrying about wasting a canvas. I wouldn't dare to do it with a figure; I'd be afraid of spoiling the whole thing. And the experience I gain this way is then applied to my pictures." - Renoir – His Life and Work

"People will keep on taking them for theorists, when all they wanted was to paint in gay, bright colours, like the old masters." - Renoir – His Life and Work

"For me, a painting must be a pleasant thing, joyous and pretty - yes, pretty. There are too many unpleasant things in life for us to fabricate still more." - quoted in History of Color in Painting With New Principles of Color Expression

"The artist who uses the least of what is called imagination, will be the greatest!" - quoted in The Art of Self-Deception: An Intelligible Guide

"What seems most significant to me about our movement is that we have freed painting from the importance of the subject. I am at liberty to paint flowers and call them flowers, without their needing to tell a story." - Quoted in Painterly Abstraction in Modernist American Poetry

"They tell you that a tree is only a combination of chemical elements. I prefer to believe that God created it, and that it is inhabited by a nymph." - quoted in Renoir: My Father

"Give me that palette.... those two woodcocks.... turn this one's head to the left.... give me back my palette.... I can't paint that beak.... Quick, some paint.... change the position of those woodcocks…" - quote from a letter written by Félix Fénéon, published in 'Le Bulletin des artistes' 15th December 1919

"One morning one of us had run out of black; and that was the birth of Impressionism." - quoted in Art of the 20th Century: Painting

"... to express himself well, the artist should be hidden...The trouble is that if an artist knows he has genius, he's done for. The only salvation is to work like a labourer, and not have delusions of grandeur." - quoted in Jean Renoir
Artists, poets and other creators express themselves and the world around them in unique and uncompromising ways. Read the insights of a few of them: