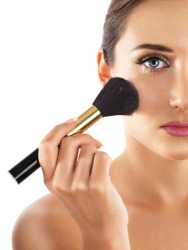 A woman applying blusher.
---
blusher
noun
a person who blushes, esp. one who blushes readily
any of various cosmetic powders, creams, etc., traditionally pink or reddish, applied to the face, esp. the cheeks, to give added color
---
blusher
noun
One who blushes.
See blush.
---
blusher
Noun
(plural blushers)
Agent noun of blush; one who blushes.
Any of several closely related, edible species of the genus Amanita, including Amanita rubescens and Amanita novinupta.
---