rouge

rouge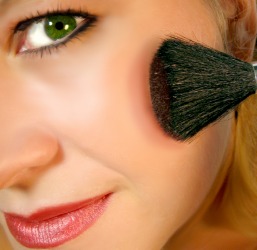 A woman applies rouge to her cheeks.
noun
Rouge is defined as a red powder that is used to polish glass and metals.

An example of rouge is a ferric oxide-based powder that allows a shine to be buffed onto metal.

Rouge is blusher or a red powder or cream used to give color to the cheeks.

A reddish-toned makeup from Clinique or Bobby Brown or Maybelline that you put on your cheeks in order to give them some color is an example of rouge.
---
rouge
any of various reddish cosmetics in powder, paste, or liquid form, esp. a red or reddish cream, for adding color to the cheeks or lips: a cosmetic used esp. formerly
a reddish powder, mainly ferric oxide, for polishing jewelry, metal, etc.
Origin of rouge
French from the adjective , red from Classical Latin
rubeus
, reddish: see see ruby
transitive verb
rouged

,

roug′ing
to color with rouge
in Canadian football, the scoring of a point by the team that is punting when the receiving team takes the ball behind the goal line and does not run it back into the field of play
Origin of rouge
origin, originally slang term at Eton, a scrimmage from uncertain or unknown; perhaps
intransitive verb
transitive verb
rouged

,

roug′ing
to carry out or cause to carry out a rouge
---
rouge
noun
A red or pink cosmetic for coloring the cheeks or lips.
A reddish powder, chiefly ferric oxide, used to polish metals or glass.
verb
rouged, roug·ing, roug·es
verb
transitive
To put rouge onto: rouged her cheeks.
To color or prettify as if with a facial cosmetic: "Their job is to rouge up the war … to turn the horror into cheering press releases" ( Richard Corliss )
verb
intransitive
To use rouge.
Origin of rouge
French
from
Old French
red
from
Latin
rubeus
; see
reudh-
in Indo-European roots.
---
rouge

---