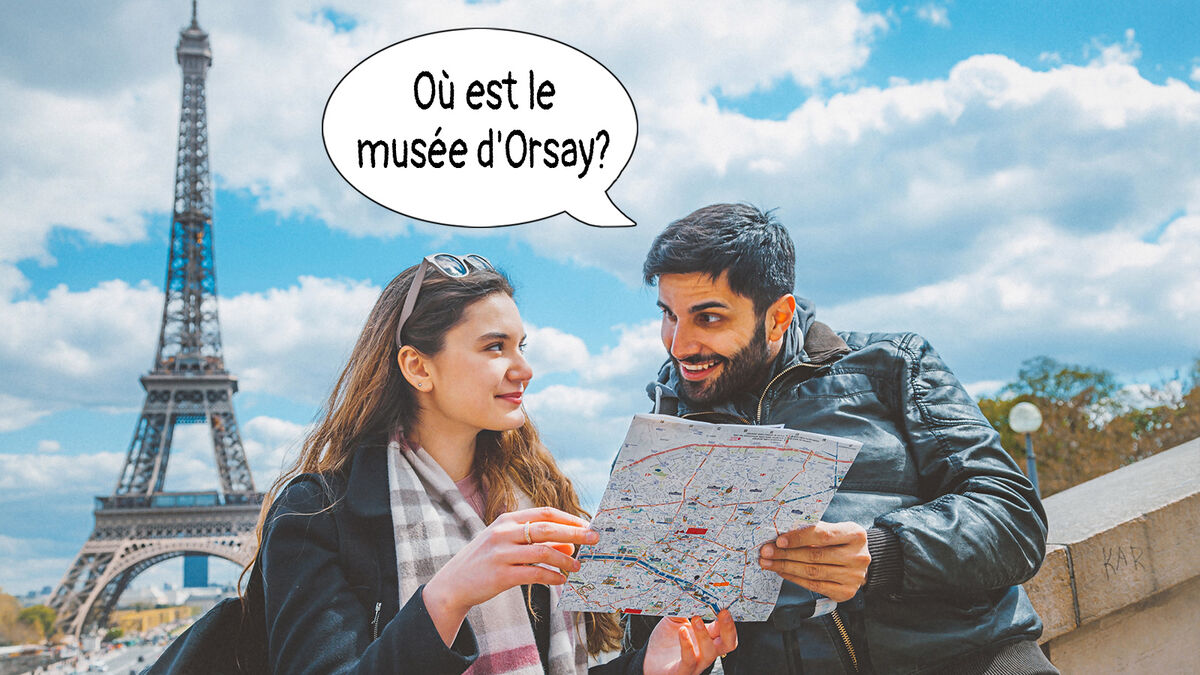 Learning to speak or understand French starts with learning a few basic French words. These common French words can get you started on your journey to the language of France or as a tourist in France. Keep in mind that there might be slight dialect differences between different French speaking countries, such as French Canada versus France.
You'll need to know les nombres, or the numbers, if you want to count, tell time, or pay for things in France.
zéro (zay-roh) - zero
un (uh) - one
deux (deu) - two
trois (twah) - three
quatre (kat-r) - four
cinq (sank) - five
six (sees) - six
sept (set) - seven
huit (weet) - eight
neuf (nuf) - nine
dix (dees) - ten
onze (ohnze) - eleven
douze (doos) - twelve
treiz (trayz) - thirteen
quatorze (kat-or-z) - fourteen
quinze (kaz) - fifteen
seize (say-z)- sixteen
dix-sept (dees-set) - seventeen
dix-huit (dees-weet) - eighteen
dix-neuf (dees-nuf) - nineteen
vingt (vah) - twenty
French Colors and Common Adjectives
In the French language adjectives, such as colors, have to agree with the gender of the noun they describe. For some words, the masculine and feminine forms are the same, but those that differ typically add an "e" on the end for the feminine form. French adjectives also usually come after the word they describe, not before it.

Le couleur words listed here show the masculine form first and only the singular forms. For many plural forms, you add an "s" to the end.
rouge - red
jaune - yellow
bleu/bleue - blue
vert/verte - green
orange - orange
violet/violette - purple
rose - pink
blanc/blanche - white
noir/noire - black
gris/grise - gray
marron - brown
Although many French adjectives come after the noun they describe, there are many that come before it. These BANGS adjectives, which describe beauty, age, number, goodness, and size, all come before the noun they describe.
bon/bonne - good
beau/belle - beautiful
chaud/chaude - hot
facile - easy
fort/forte - strong
froid/froide - cold
gros/grosse - big
jeune - young
mauvais/mauvaise - bad
petit/petite - small
vieux/vielle - old
Many animaux names in French are assigned a gender already for the purposes of creating the word. This means the spellings don't change based on the gender of your subject.
le canard - duck
le chat - cat
le cheval - horse
le chien - dog
le cochon - pig
le lapin - rabbit
l'oiseau - bird
le poisson - fish
le poulet - chicken
le singe - monkey
le tigre - tiger
la tortue - turtle
la vache - cow
Learning le corps, or the body parts, can help you, especially if you are sick or injured. Body parts in French are assigned a gender, so the spelling won't change. The "la" before a word indicates it's feminine, the le" indicates it's masculine, and "les" indicates it's plural.
la bouche - mouth
le bras - arm
le dos - back
la jambe - leg
la main - hand
le nez - nose
les oreilles - ears
le pied - foot
la tête - head
le ventre - stomach
le visage - face
les yeux - eyes
French Calendar and Time Terms
To make appointments, catch a train, or set up a date, you'll need to understand things like time and days of the week in French.
Days of the Week in French
The days of the week, or les jours de la semaine, are not capitalized in French.
lundi - Monday
mardi - Tuesday
mercredi - Wednesday
jeudi - Thursday
vendredi - Friday
samedi - Saturday
dimanche - Sunday
Months of the Year in French
The months of the year, or les mois de l'an, are not capitalized in French either.
janvier - January
février - February
mars - March
avril - April
mai - May
juin - June
juillet - July
août - August
septembre - September
octobre - October
novembre - November
décembre - December
When you're talking about a specific time on the clock, instead of saying "o'clock" after the number, you'll say "heures," which means "hour." For this, you'll need to know your numbers up to 24 because the French use a 24-hour clock system. For example, if it's 3:00, in French you'd say "Il est trois heures."
le matin - the morning
dans l'après-midi - in the afternoon
en soirée - in the evening
la nuit - the night
tard - late
bientôt - soon
maintenant - now
hier - yesterday
aujourd'hui - today
demain - tomorrow
l'heure - time
midi - noon
minuit - midnight
Quelle heure est-il? - What time is it?
French Greetings and Important Phrases
If you want to have a nice French conversation, you'll need to know the proper ways to greet others, introduce yourself, and leave the group.
Allô? – Hello? (for phone calls only)
À plus tard! - See you later!
Au revoir. - Goodbye.
Bonjour! - Hello! or Good morning!
Bonsoir! - Good evening!
Ça va? - How are you? or How's it going?
C'est combien? - How much is it?
Comment t'appelles-tu? - What's your name?
Excusez moi. - Excuse me.
Je ne comprends pas. - I don't understand.
Je suis désolé(e), mais je dois y aller. - I'm sorry, but I have to go.
Merci beaucoup. - Thanks a lot.
Non - No
Où est…? - Where is …?
Où sont les toilettes? - Where are the toilets?
Oui - Yes
Salut! - Hi!
S'il vous plait. - If you please, or please.
French subject pronouns are important parts of standard sentences. The trick to many of these is making sure the pronoun you use matches the gender or formality level of the subject.
je - I
tu/vous - you (tu is informal and singular, vous is formal and/or plural)
il - he or it (masculine)
ils - they (masculine)
elle - she or it (feminine)
elles - they (feminine)
nous - we
Basic French Verbs and Action Words
As with English verbs, part of using these action words involves conjugating them to fit in your sentences. For the purpose of beginner learning, these are the base forms of the verbs along with their conjugations for basic subjects.
être - to be

je suis - I am

tu es - you are

il est - he is

elle est - she is

nous sommes - we are

vous êtes - you are

ils sont/elles sont - they are

avoir - to have

j'ai- I have

tu as - you have

il/elle a - he/she has

nous avons - we have

vous avez - you have

ils/elles ont - they have

aller - to go

je vais - I'm going

tu vas - you're going

il/elle va - he/she is going

nous allons - we are going

vous allez - you're going

ils/elles vont - they're going

faire - to do

je fais - I'm doing

tu fais - you're doing

il/elle fait - he/she makes

nous faisons - we're making

vous faites - you're making

ils/elles font - they're doing