dye

dye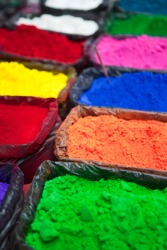 Colorful dyes in powder form.
noun
Dye is defined as tint or coloring agent used to change the color of something.

An example of dye is henna.
An example of dye is what you'd use to turn a white shirt purple.
verb
The definition of dye is to turn something a different color.

An example of dye is using hair tint to change your hair color.
---
dye
color produced in a substance by saturating it with a coloring agent; tint; hue
any substance used to give color to fabric, hair, etc.; coloring matter or a solution containing it
Origin of dye
Middle English
deie
from Old English
deag
, akin to Old High German
tougal
, dark, secret from Indo-European an unverified form
dhwek-
, dark color, secret from base an unverified form
dheu-
: see dull
transitive verb
dyed

,

dye′ing
to color with or as with a dye
Origin of dye
ME
deien
< OE
deagian
to take on color in dyeing
of (the) deepest dye
of the most marked, esp. the worst, sort
---
dye
noun
A substance used to color materials. Also called dyestuff .
A color imparted by dyeing.
verb
dyed, dye·ing, dyes
verb
transitive
To color (a material), especially by soaking in a coloring solution.
verb
intransitive
To take on or impart color.
Origin of dye
Middle English
deie
from
Old English
dēag, dēah
Related Forms:
---
dye

---