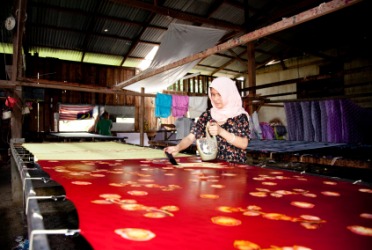 A woman creating a design on cloth using the batik method.
---
batik
noun
a method of dyeing designs on cloth by coating the parts that are not to be dyed with removable wax
cloth so decorated or a design made in this way
Origin of batik
Malay
adjective
of or like batik
---
batik
noun
a. A method of dyeing a fabric by which the parts of the fabric not intended to be dyed are covered with removable wax.

b. A design that is created by this method.

Fabric dyed by this method.
transitive verb
ba·tiked
,
ba·tik·ing
,
ba·tiks
To dye (fabric) using this method: batiked a T-shirt.
Origin of batik
Malay
batek
,
of Javanese origin
, from Proto-Austronesian
*beCík
,
tattoo (from the fact that the original process of piercing the waxed cloth prior to soaking was similar to tattooing)
.
batik
detail of a batiked textile
---
batik
Verb
(third-person singular simple present batiks, present participle batiking, simple past and past participle batiked)
To dye fabric using the wax-resist method.
---