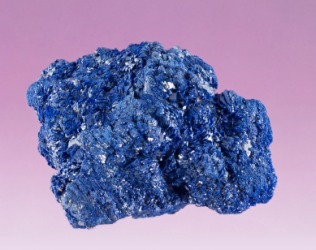 A piece of azurite.
---
azurite
noun
a brilliantly blue or violet, monoclinic mineral, Cu(CO)(OH), an ore of copper
a semiprecious gem made from this mineral
Origin of azurite
azur(e) + -ite
---
azurite
noun
An azure blue vitreous mineral of basic copper carbonate, Cu3(CO3)2(OH)2, used as a copper ore and as a gemstone.
---
azurite
Origin
From Persian لاژورد (lâžward, "blue color").
---