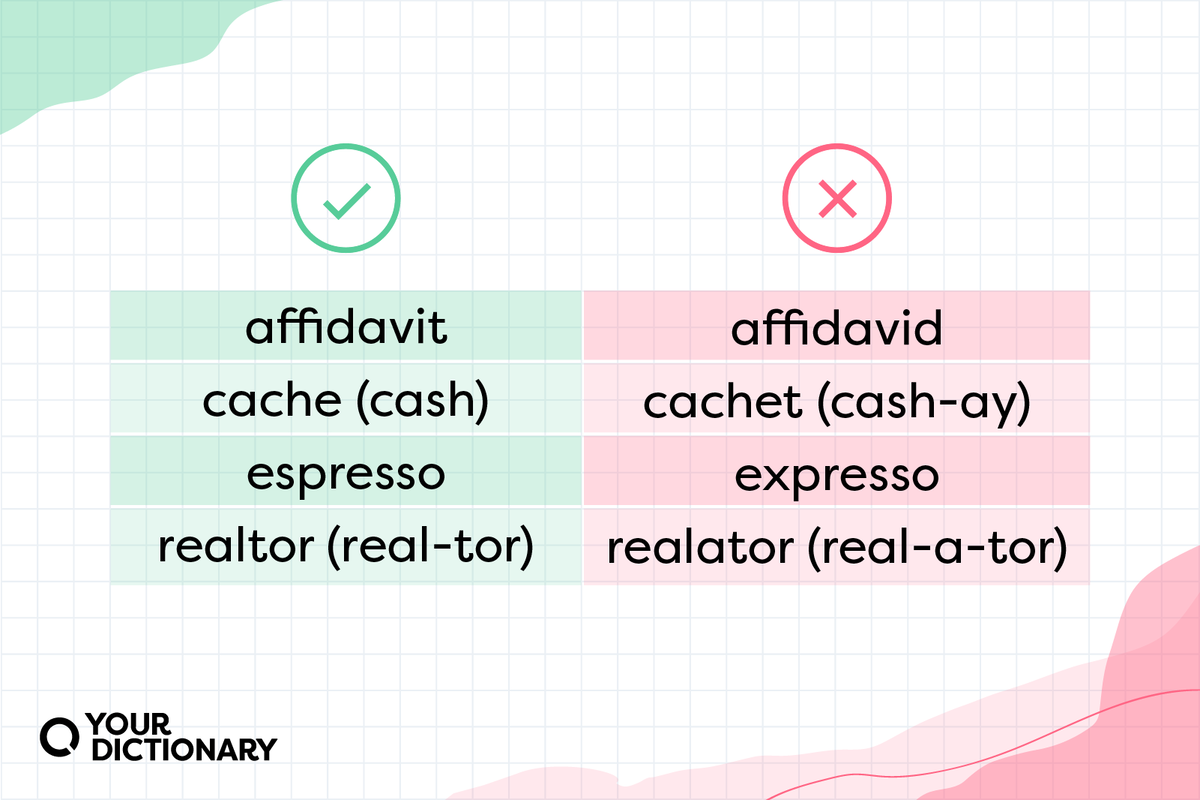 What word do you constantly mispronounce, no matter how many times you try to get it right? Because many English words come from different languages and regional dialects, it may be hard to know exactly how to pronounce tricky words. But what words are you mispronouncing without even knowing you're mispronouncing them?
Mispronounced Words That Start With A–F
The first part of the alphabet is full or words that you might be saying wrong. From Antarctic to barbiturate, you may find some extra letters that you've been leaving out of everyday speech.
Correct Pronunciation

Definition

Incorrect Pronunciation

açaí
(ah-sah-EE)

purple fruit from an açaí palm tree

akai
(ah-KAI)

affidavit
(aff-ah-DAY-vit)

a written sworn statement

affidavid
(aff-ah-DAY-vid)

anemone
(ah-NEM-oh-nee)

a member of the buttercup family, or a flower-like sea creature (sea anemone)

anenome
(ah-NEN-oh-mee)

Antarctic
(ant-ARK-tick)

relating to the Antarctic region

Antartic
(ant-ARR-tick)

antennae

(an-TEN-ee)

more than one antenna (a sense organ on the head of orthopods)

antennay
(an-TEN-ay)

athlete
(ATH-leet)

someone who plays sports or exercises

athalete
(ATH-ah-leet)

Australia
(aw-STRAYL-ya)

a country and continent in Oceania

Ostraya
(aw-STRAY-ya)

barbed wire
(BARBED wire)

twisted, spiked strands of fence wire

bob wire or barb wire
(BOB wih-ur or BARB wih-ur)

barbiturate
(bar-BIH-chur-ite)

a depressant drug

barbituate
(bar-BIH=choo-ite)

boatswain
(BOW-sun)

a ship's warrant officer

boatswain

(BOWT-swayn)

bon appétit
(bow nap-uh-TEA)

French for "enjoy your meal"

bon appeteat
(bow nap-uh-TEAT)

cache
(CASH)

a hidden storage

cashay
(cah-SHAY)

cacophony 

(cuh-CAW-fone-ee)

harsh, contrasting sounds

cacaphony
(caw-CAH-fone-ee)

colonel
(KERN-ull)

a high-ranking military officer

colonel
(CAL-oh-nel)

calzone
(cal-ZOH-nay)

Italian dish made with cheese and meat inside folded dough

calzone
(cal-ZONE)

cavalry
(CAH-vul-ree)

horse-mounted combat troops

calvary
(CAL-vah-ree)

chalet
(shall-AY)

a Swiss-style house in the mountains

chalett
(chal-lett)

charcuterie
(shar-KOO-terr-ee)

a platter of deli meats and cheeses

charcutterie

(char-CUT-err-ee)

clique

(click)

an exclusive group

cliquey
(clicky)

cornet
(kor-NET)

a brass instrument smaller than a trumpet

coronet
(kor-oh-NET)

dilate
(DYE-late)

to make wider or larger

dialate
(DYE-uh-late)

diphtheria
(diff-THEER-ee-uh)

an infectious disease

diptheria
(dip-THEER-ee-uh)

electoral
(ell-ECK-tor-all)

relating to an election

electorial
(ell-eck-TOR-ee-all)

epitome

(eh-PIT-oh-mee)

showing all the typical qualities of something

epitom
(EH-pit-ohm)

espresso
(ess-PRESS-oh)

a condensed coffee serving

expresso
(ecks-PRESS-oh)

et cetera
(et SET-er-ah)

Latin expression meaning "and the rest"

ex cetera
(ecks SET-er-ah)

especially
(ess-PESH-all-ee)

particularly

expecially
(ecks-PESH-all-ee)

February
(FEB-roo-air-ee)

the second month in the Gregorian calendar

Febuary
(FEB-yoo-air-ee)

fiscal
(FISS-kull)

relating to finances

fisical

(FIS-ih-kull)

foliage
(foll-ee-idge)

a collection of leaves and trees

foilage
(foy-ull-idge)

forte
(FOR-tay)

a person's strength; in music, a louder volume

fort
(FORT)

foyer
(FOR-urr)

an entrance hall

foyay
(FOY-yay)
Fast Fact
Some words are mispronounced because people think they require a French flair. But words like foyer are pronounced just as they're spelled in American English.
On the other hand, words with Italian roots (such as forte) do tend to keep their Italian pronunciation in English.
Mispronounced Words That Start With G–P
You may not always have the opportunity to say GIF or hierarchy in everyday conversation. But on the chance that you do need to say these tricky words out loud, it's worth saying them correctly.
Correct Pronunciation

Definition

Incorrect Pronunciation

gala
(gay-lah)

a formal festive occasion

gala
(gal-ah)

genre
(JHON-rah)

a category of written or artistic works

jonrey
(JON-rey)

gif
(jiff)

a moving image file

gif
(like gift)

gyro
(YEE-roh)

a Greek sandwich with lamb or other meat

guyro
(GYE-roh)

hierarchy 

(HI-err-ar-key)

a grouping by rank

hiarchy
(HI-ar-key)

hyperbole
(hie-PER-bow-lee)

an exaggerated statement used for effect

hyperbowl
(HIE-per-bole)

larynx

(LARE-inks)

a structure in the human trachea that contains the vocal cords

larnyx
(LARE-nicks)

liable
(LIE-ah-bull)

responsible for something

lible
(LYE-bull)

macaron
(mac-ah-RON)

French filled cookie

macaroon
(mac-ah-roon)

masonry

(MAY-son-ree)

stonework or brickwork

masonary

(MAY-son-air-ee)

mauve
(mohv)

a shade of purple

mawve
(mawv)

mayonnaise

(MAY-aw-nays)

a dressing containing egg, oil, and vinegar

maynaise

(MAY-nays)

meme

(meem)

a popular image or trend that circulates online

mimi
(mee-mee)

miniature
(MIN-ee-ah-chure)

a small version of something larger

miniture
(MIN-ih-chure)

moot

(moot)

irrelevant

mute
(myoot)

mischievous
(MISS-chuh-vus)

likely to cause trouble

mischevious
(MISS-chee-vee-us)

nuclear
(NUKE-lee-ur)

relating to atomic energy

nucular
(NUKE-yoo-lur)

ostensibly
(oss-TEN-sib-lee)

apparently

ostensively
(oss-TEN-sive-lee)

percolate
(PER-coh-late)

to trickle through

perculate
(PER-kyoo-late)

perspire
(pur-SPY-er)

to sweat

prespire
(preh-SPY-er)

potable

(POH-tah-bull)

drinkable

pottable
(PAW-tah-bull)

prerogative
(preh-ROG-ah-tiv)

one's right or privilege

perogative
(pur-OHG-ah-tiv)

prescription
(preh-SCRIP-shun)

a doctor's note indicating a desired medication

perscription
(pur-SCRIP-shun)

prestigious
(preh-STI-jus)

above others in standing

prestegious
(preh-STEE-jus)

preternatural

(pree-ter-NAT-chur-al)

extraordinary

preternatural

(preh-ter-NAT-chur-al)

pronunciation
(pro-nun-see-AH-shun)

the way a word is said

pronounciation
(pro-nown-see-AH-shun)
Fast Fact
Some people say pronunciation with a noun in the middle, since the verb pronounce is, well, pronounced that way. But pronunciation has a nun in the middle instead.
Mispronounced Words That Start With Q–Z
Don't forget those easily mispronounced words at the end of the alphabet!
Correct Pronunciation

Definition

Incorrect Pronunciation

quinoa
(keen-WAH)

edible seeds from the Chenopodium quinoa plant

quinoa
(qui-NOAH)

realtor
(REEL-tor)

a real estate agent

realator
(REEL-ah-tor)

regardless
(ree-GARD-less)

without consideration

irregardless
(eer-reh-GARD-less)

relevant
(REL-ah-vent)

relating to the matter at hand

revelant
(REV-ah-lent)

remuneration
(reh-myoo-ner-AY-shun)

a payment, usually money

renumeration
(reh-noom-er-AY-shun)

respite
(RES-pit)

a delay or break

respite
(RES-pihte)

salmon
(SAH-mon)

a species of fish; a pinkish color that relates to the color of the fish

sal-mon
(SAL-mon)

segue
(SEG-way)

a smooth transition

segoo
(SEG-yoo)

sherbet
(SHUR-bet)

a frozen fruit dessert

sherbert
(SHUR-bert)

suite
(sweet)

a series of connected rooms

suit
(soot)

supposedly
(suh-POSE-ed-lee)

based on one's beliefs

supposably
(suh-POSE-ab-lee)

supremacist
(soo-PREM-ah-sist)

someone who believes in the supremacy of a group

supremist
(soo-PREM-ist)

tenet
(TEN-et)

a belief or principle

tenent
(TEN-ent)

tenterhooks
(TEN-ter-hooks)

from the idiom "on tenterhooks," meaning "in a state of suspense"

tenderhooks
(TEN-der-hooks)

triathlon
(tri-ATH-lon)

a race composed of swimming, bicycling, and running events

triathalon
(tri-ATH-ah-lon)

(UHT-most)

the highest limit

upmost
(UP-most)

verbiage
(VER-bee-ige)

expressing in words

verbage
(VER-bage)

victual
(vittle)

food

victual

(VICK-too-ull)

viscount
(VYE-count)

a nobleman above a baron and below an earl or count

viscount
(VIS-count)

voluptuous
(vol-LUP-choo-us)

shapely

volumptuous
(vol-LUMP-choo-us)

Worcestershire
(WUS-ter-shur)

anything from the Worcestershire region of England (usually referring to Worcestershire sauce)

Worchester
(WOR-ches-ter)

zoology
(zoh-AWL-oh-gee)

the study of animals

zoo-ology
(zu-AWL-oh-gee)