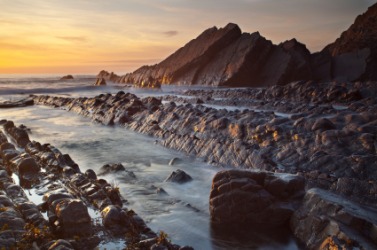 A beach at dusk.
noun
Dusk is defined as the time of day when it is defined as just starting to get dark.

An example of dusk is around 7 p.m. in the summer.
---
dusk
Old Poet.
dark in color; dusky; shadowy
Origin of dusk
ME, by metathesis from Old English
dox
, dark-colored: for Indo-European base see dun
the time of evening when it is beginning to get dark; dim part of twilight
gloom; dusky quality
to make or become dusky or shadowy
---
dusk
noun
The darker stage of twilight, especially in the evening.
adjective
Tending to darkness; dusky.
intr. & tr.v.
dusked, dusk·ing, dusks
To become or make dark or dusky.
Origin of dusk
From
Middle English
dark
alteration of
Old English
dox
---
dusk

Noun
(plural dusks)
A darkish colour.
Verb
(third-person singular simple present dusks, present participle dusking, simple past and past participle dusked)
(intransitive) to begin to lose light or whiteness; to grow dusk
To make dusk.
Adjective
(comparative dusker, superlative duskest)
Tending to darkness or blackness; moderately dark or black; dusky.
Origin
From Middle English dosk, duske (adj., "dusky"), from Old English dox ("dark, swarthy"), from Proto-Germanic *duskaz ("dark, smoky"), from Proto-Indo-European *dhūs (cf. Old Irish donn 'dark', Latin fuscus 'dark, dusky', Sanskrit dhūsaras 'dust-colored'), from *dhū, dheu- 'to smoke, dust'. More at dye. Related to dust.
---