noun
Dusk is defined as the time of day when it is defined as just starting to get dark.

An example of dusk is around 7 p.m. in the summer.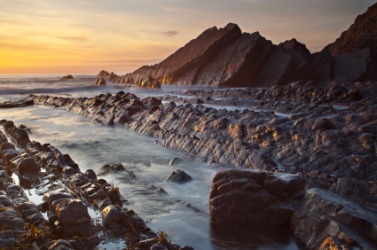 A beach at dusk.
---
dusk definition by Webster's New World
adjective
Old Poet.
dark in color; dusky; shadowy
Origin: Middle English by metathesis ; from Old English dox, dark-colored: for Indo-European base see dun
noun
the time of evening when it is beginning to get dark; dim part of twilight
gloom; dusky quality
transitive verb
,
intransitive verb
to make or become dusky or shadowy
Webster's New World College Dictionary Copyright © 2010 by Wiley Publishing, Inc., Cleveland, Ohio. Used by arrangement with John Wiley & Sons, Inc.
---
dusk definition by American Heritage Dictionary
noun
The darker stage of twilight, especially in the evening.
adjective
Tending to darkness; dusky.
intr. & tr.v.
dusked
,
dusk·ing
,
dusks
To become or make dark or dusky.
Origin: From Middle English, dark, alteration of Old English dox.