noun
The definition of dust is fine bits of dirt or other matter that hangs in the air and settles on surfaces.

An example of dust is the dirt that gathers on top of books sitting on a shelf.
verb
Dust is defined as to sprinkle powdery substances onto something, or to remove powdery substances from something.

An example of dust is applying a light amount of powder to the face.
An example of dust is using a cloth to remove fine dirt from the top of frames hung on a wall.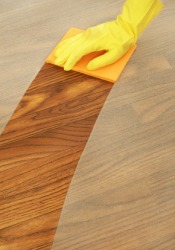 A gloved hand wiping dust from a table.
---
dust definition by Webster's New World
noun
powdery earth or other matter in bits fine enough to be easily suspended in air
a cloud of such matter
confusion; turmoil

earth, esp. as the place of burial
mortal remains disintegrated or thought of as disintegrating to earth or dust

a humble or abject condition
anything worthless

Brit.

ashes, rubbish, etc.
pollen
☆ gold dust

Archaic

a particle
Origin: Middle English ; from Old English akin to MLowG: for Indo-European base see dun
transitive verb
to sprinkle with dust or a fine powdery substance: to dust crops with an insecticide
to sprinkle (powder, etc.) on something
to rid of dust, as by brushing, shaking, or wiping: often with off

Archaic

to make dusty
intransitive verb
to remove dust, esp. from furniture, floors, etc.
to bathe in dust: said of a bird
Webster's New World College Dictionary Copyright © 2010 by Wiley Publishing, Inc., Cleveland, Ohio. Used by arrangement with John Wiley & Sons, Inc.
---
dust definition by American Heritage Dictionary
noun
Fine, dry particles of matter.
A cloud of fine, dry particles.
Particles of matter regarded as the result of disintegration: fabric that had fallen to dust over the centuries.

a. Earth, especially when regarded as the substance of the grave: "ashes to ashes, dust to dust" (Book of Common Prayer).

b. The surface of the ground.

A debased or despised condition.
Something of no worth.
Chiefly British Rubbish readied for disposal.
Confusion; agitation; commotion: won't go back in until the dust settles.
verb
dust·ed
,
dust·ing
,
dusts
verb
, transitive
To remove dust from by wiping, brushing, or beating: dust the furniture.
To sprinkle with a powdery substance: dusted the cookies with sugar; dust crops with fertilizer.
To apply or strew in fine particles: dusted talcum powder on my feet.
Baseball To deliver a pitch so close to (the batter) as to make the batter back away.
verb
, intransitive
To clean by removing dust.
To cover itself with such particulate matter. Used of a bird.
Phrasal Verb:
dust off
To restore to use:
dusted off last year's winter coat.
Origin: Middle English, from Old English dūst.
The American Heritage® Dictionary of the English Language, 4th edition Copyright © 2010 by Houghton Mifflin Harcourt Publishing Company. Published by Houghton Mifflin Harcourt Publishing Company. All rights reserved.
---
dust - Phrases/Idioms
bite the dust
Informal
to die, esp. in battle
dust off
Informal
to prepare to use
lick the dust
to be servile; grovel: cf. Mic. 7:17
make the dust fly
to act energetically
to move swiftly
shake the dust off one's feet
to leave with disdain or contempt: cf. Matt. 10:14
throw dust in someone's eyes
to mislead or deceive someone
in the dust
Far behind, as in a race or competition:
a marketing strategy that left our competitors in the dust.
make the dust fly
To go about a task with great energy and speed.