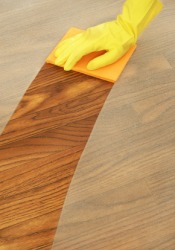 A gloved hand wiping dust from a table.
noun
The definition of dust is fine bits of dirt or other matter that hangs in the air and settles on surfaces.

An example of dust is the dirt that gathers on top of books sitting on a shelf.
verb
Dust is defined as to sprinkle powdery substances onto something, or to remove powdery substances from something.

An example of dust is applying a light amount of powder to the face.
An example of dust is using a cloth to remove fine dirt from the top of frames hung on a wall.
---
dust
powdery earth or other matter in bits fine enough to be easily suspended in air
a cloud of such matter
confusion; turmoil

earth, esp. as the place of burial
mortal remains disintegrated or thought of as disintegrating to earth or dust

a humble or abject condition
anything worthless

Brit.

ashes, rubbish, etc.
pollen
gold dust

Archaic

a particle
Origin of dust
Middle English from OE, akin to MLowG: for Indo-European base see dun
to sprinkle with dust or a fine powdery substance: to dust crops with an insecticide
to sprinkle (powder, etc.) on something
to rid of dust, as by brushing, shaking, or wiping: often with off

Archaic

to make dusty
to remove dust, esp. from furniture, floors, etc.
to bathe in dust: said of a bird
bite the dust
to die, esp. in battle
to stop existing or functioning; fail, break, etc.
dust off
Informal
to prepare to use
leave in the dust
Informal
to surpass or outstrip readily
Origin of dust
in ref. to the cloud of
dust
raised as by runners in a race
lick the dust
to be servile; grovel: cf. Mic. 7:17
make the dust fly
to act energetically
to move swiftly
shake the dust off one's feet
to leave with disdain or contempt: cf. Matt. 10:14
throw dust in someone's eyes
to mislead or deceive someone
---
dust
noun
Fine, dry particles of matter.
A cloud of fine, dry particles.
Particles of matter regarded as the result of disintegration: fabric that had fallen to dust over the centuries.

a. Earth, especially when regarded as the substance of the grave: "ashes to ashes, dust to dust" ( Book of Common Prayer )

b. The surface of the ground.

A debased or despised condition.
Something of no worth.
Chiefly British Rubbish readied for disposal.
Confusion; agitation; commotion: won't go back in until the dust settles.
verb
dust·ed, dust·ing, dusts
verb
transitive
To remove dust from by wiping, brushing, or beating: dust the furniture.
To sprinkle with a powdery substance: dusted the cookies with sugar; dust crops with fertilizer.
To apply or strew in fine particles: dusted talcum powder on my feet.
Baseball To deliver a pitch so close to (the batter) as to make the batter back away.
verb
intransitive
To clean by removing dust.
To cover itself with dry soil or other particulate matter. Used of a bird.
Phrasal Verbs:
dust off
To restore to use:
dusted off last year's winter coat.
Origin of dust
Middle English
from
Old English
dūst
---
dust

Noun
(countable and uncountable, plural dusts)
(uncountable) Fine, dry particles of matter found in the air and covering the surface of objects, typically consisting of soil lifted up by the wind, pollen, hair, etc.
(countable) The act of cleaning by dusting.
The earth, as the resting place of the dead.
The earthy remains of bodies once alive; the remains of the human body.
(figuratively) Something worthless.
(figuratively) A low or mean condition.
(mathematics) A totally disconnected set of points with a fractal structure.
Verb
(third-person singular simple present dusts, present participle dusting, simple past and past participle dusted)
To remove dust from.

The cleaning lady needs a stool to dust the cupboard.

(intransitive) To remove dust; to clean by removing dust.

Dusting always makes me cough.

(intransitive) Of a bird, to cover itself in sand or dry, dusty earth.
To spray or cover something with fine powder or liquid.

The mother dusted her baby's bum with talcum powder.

(chiefly US slang) To leave; to rush off.
To reduce to a fine powder; to levigate.

Template:rfduotek
Origin
From Middle English dust, doust, from Old English dust, dūst ("dust, dried earth reduced to powder; other dry material reduced to powder"), from the fusion of Proto-Germanic *dustą ("dust") and Proto-Germanic *dunstą ("mist, dust, evaporation"), both from Proto-Indo-European *dʰewes-, *dʰews-, *dʰwAn-, *dʰūw- ("to smoke, raise dust"). Cognate with Scots dust, dist ("dust"), Dutch duist ("pollen, dust") and dons ("down, fuzz"), German Dust ("dust") and Dunst ("haze"), Swedish dust ("dust"), Icelandic dust ("dust"), Latin fūmus ("smoke, steam"). Also related to Swedish dun ("down, fluff"), Icelandic dúnn ("down, fluff"). See down.
---