pulverize

pul·ver·ize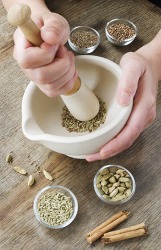 Pulverizing spices into a powder using a mortar and pestle.
verb
Pulverize is to crush into powder, or to demolish.

When a building is torn down, this is an example of when the building is pulverized.
---
pulverize
transitive verb
-·ized·

,

-·iz·ing
to crush, grind, etc. into a powder or dust
to break down completely; demolish
Origin of pulverize
Middle French
pulveriser
from Late Latin
pulverizare
from Classical Latin
pulvis
, powder: see pollen
to be crushed, ground, etc. into powder or dust
---
pulverize
verb
pul·ver·ized, pul·ver·iz·ing, pul·ver·iz·es
verb
transitive
To pound, crush, or grind to a powder or dust.
To overwhelm or defeat utterly: The visitors pulverized the home team.
verb
intransitive
To be ground or reduced to powder or dust.
Origin of pulverize
Middle English
pulverizen
from
Late Latin
pulverizāre
from
Latin
pulvis
pulver-
dust
Related Forms:
pul′ver·iz′a·ble

adjective
---
pulverize

Verb
(third-person singular simple present pulverizes, present participle pulverizing, simple past and past participle pulverized)
(American) Alternative spelling of pulverise.
---