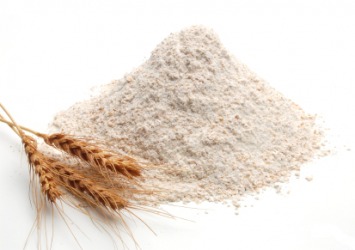 A pile of flour next to ears of wheat.
noun
Flour is defined as a fine powder or meal made from ground grain, roots, nuts and vegetables.

A fine powder used to make cakes and cookies and made from ground wheat is an example of flour.
verb
To flour means to sprinkle a thin powder (also called flour) onto a surface in order to prepare that surface and prevent sticking.

When you are making bread and you do not want it to stick to the counter, you spread a thin powder (made from ground grain) onto the counter; this act of spreading the powder is an example of how to flour the surface.
---
flour
a fine, powdery substance, or meal, produced by grinding and sifting grain, esp. wheat, or any of various edible roots, nuts, etc.
any finely powdered substance
Origin of flour
Middle English (see flower): a figurative, figuratively use as "best, prime" in "flour of wheat," after French
fleur de farine
, literally , flower of meal
to put flour in or on
to make into flour
---
flour
noun
A fine, powdery foodstuff obtained by grinding and sifting the meal of a grain, especially wheat, used chiefly in baking.
Any of various similar finely ground or powdered foodstuffs, as of cassava, chickpeas, or bananas.
A soft, fine powder.
transitive verb
floured, flour·ing, flours
To cover or coat with flour.
To make into flour.
Origin of flour
Middle English
flower, best of anything, flour
; see
flower
.
Related Forms:
---
flour

Noun
(usually uncountable, plural flours)
Powder obtained by grinding or milling cereal grains, especially wheat, and used to bake bread, cakes, and pastry.
(US standard of identity) The food made by grinding and bolting cleaned wheat (not durum or red durum) until it meets specified levels of fineness, dryness, and freedom from bran and germ, also containing any of: certain enzymes, ascorbic acid, and certain bleaching agents.
Powder of other material.

wood flour, produced by sanding wood
mustard flour
Verb
(third-person singular simple present flours, present participle flouring, simple past and past participle floured)
To apply flour to something; to cover with flour.
---