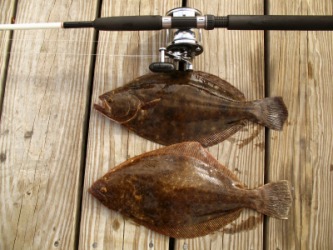 A pair of fresh caught flounder.
noun
The definition of a flounder is a type of flatfish.

An example of flounder is halibut or turbot served at seafood restaurants.
verb
Flounder is defined as to stumble or struggle to talk, make a lot of errors, or move in a clumsy way.

An example of flounder is to have trouble speaking without hesitation or losing your train of thought.
---
flounder
to struggle awkwardly to move, as in deep mud or snow; plunge about in a stumbling manner
to speak or act in an awkward, confused manner, with hesitation and frequent mistakes
Origin of flounder
earlier
flunder
, uncertain or unknown; perhaps blend of blunder + founder
noun
pl.

-·der

or

-·ders
any of two families (Bothidae and Pleuronectidae) of flatfishes, including halibut, plaice, and turbot
Origin of flounder
Middle English from Scandinavian as in Swedish
flundra
, akin to German
flunder
from Indo-European base an unverified form
pl?t-
, flat
---
flounder
intransitive verb
floun·dered, floun·der·ing, floun·ders
To move clumsily or with little progress, as through water or mud. See Synonyms at blunder.
To act or function in a confused or directionless manner; struggle: "Some … floundered professionally, never quite deciding what they wanted to do" ( Steve Olson ) See Usage Note at founder 1.
noun
The act of floundering.
Origin of flounder
Probably alteration of
founder
1
noun
pl.
flounder,
or
floun·ders
Any of various marine flatfishes chiefly of the families Bothidae and Pleuronectidae, including several important food fishes.
Origin of flounder
Middle English
from
Anglo-Norman
floundre
of Scandinavian origin
; see
plat-
in Indo-European roots.
flounder2
peacock flounder
Bothus mancus
---
flounder

---